SafetyChain is proud to have recently been added to two 2023 Capterra Shortlists for Quality Management and Environmental Health & Safety (EHS) Management. This recognition is based on an independent assessment that evaluates user reviews and online search activity to generate a list of market leaders in the Quality and EHS Management categories.
Shortlist for Quality Management Software
The quality management functionality within SafetyChain's digital plant management platform helps process manufacturers meet compliance with all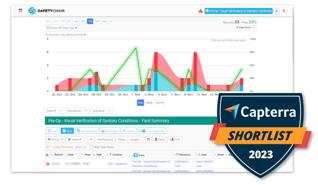 regulatory and customer requirements, allowing them to always be audit-ready by digitizing quality and safety processes and records.
According to one review on Capterra, "SafetyChain has allowed our company to elevate our in-house quality systems. We can now focus our attention on continuous improvement and growing the business rather than reviewing paper records and manually transcribing data for statistical purposes." SafetyChain's ability to enable operators and leadership to take prompt action based on real-time insights and alerts help to minimize risks and maximize production efficiency. SafetyChain's production management capabilities were also recognized on Capterra's Overall Equipment Effectiveness (OEE) Shortlist in 2022.
SafetyChain's Quality Management functionality is ranked 9th out of 589 solutions reviewed on Capterra, and is listed as an Emerging Favorite solution. → See the 2023 Capterra Quality Management Software Shortlist
Shortlist for Environmental Health & Safety (EHS) Software
The Environmental & Safety Management functionality of SafetyChain's platform allows manufacturers to mitigate work safety risks and quickly comply with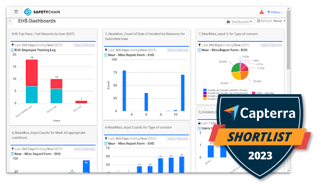 safety requirements by digitally capturing incident data to identify trends, while automating standardized checks to ensure employees are following all necessary protocols.
By identifying potential safety risks within SafetyChain, prompt corrective actions can be made to prevent accidents and mitigate hazards. Digitizing EHS processes with SafetyChain also ensures regulatory compliance obligations are consistently met and that accurate and timely reporting to regulators are available.
SafetyChain's Environmental & Safety functionality is ranked 16th out of 532 solutions reviewed on Capterra, and is listed as an Established Player solution. → See the 2023 Capterra EHS (Environmental Health & Safety) Management Software Shortlist
Digitizing Manufacturing Quality, Safety & Production
Having been added to the 2023 Capterra Shortlists emphasizes SafetyChain's impact on meeting regulatory compliance, ensuring product quality standards, and reducing safety incidents. SafetyChain was also recently ranked in the top 10 on GetApp's 2023 Quality Management Leaders list, as well as being added to the top 20 of the Software Advice 2023 Front Runner list.
But SafetyChain's abilities go well beyond QMS and EHS solutions - it is a complete digital plant management platform that is trusted by more than 2,000 process manufacturing facilities to unite quality and production teams and goals and improve plant-wide performance. Capturing and unifying data across the plant in real-time, provides line operators, shift leaders, plant managers, and senior leadership with the visibility and control needed to quickly detect and act on potential risks and adjust for growth opportunities.
SafetyChain's platform is backed by award-winning support and a Coaching team, who all have worked in manufacturing leadership roles, to help customers ensure product quality and meet regulatory compliance, maximize throughput and yield, and optimize their workforce and overall productivity with SafetyChain.
---