Blog post courtesy of David Acheson, MD, President & CEO of The Acheson Group. For more information, please visit www.achesongroup.com.
In January, we gave our predictions for The Food Industry in 2017, stating that we expected there to be a heavy focus on FSMA roll-out and compliance, as well as some impacts of the new Presidential Administration. Let's see how we did…
1. Trump's New Administration.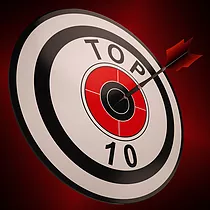 We said: What will the new administration do with the FDA budget and how will that impact its FSMA enforcement resources? … We don't expect any dramatic and sudden changes with either FDA or FSIS, but over time there may be a change in enforcement strategy.
What we got right/wrong: While the President has certainly had his impacts on America and the world, little of it has, thus far, focused on the food industry. There was some mention of key rules (e.g., the Preventive Controls. Food Defense rules) along with a number of food labeling rules in his "First 100 Days: Rules, Regulations, and Executive Orders to Examine, Revoke, and Issue" report, but (thankfully) we've not seen anything take root from this.
2. FDA Inspections.
We said: We can expect to see FDA inspectors facing a continued learning curve as they begin FSMA inspections of FDA regulated facilities to the new FSMA regulations, with inspections increasing through the year. So be ready to answer FDA "Show me your food safety plan."
What we got right/wrong: At early-year conferences FDA officials freely admitted that its inspectors were still learning how to conduct FSMA inspections, thus their repeated assertion that they intended to "Educate before and while we regulate." So facilities were getting a pass in certain areas of FSMA compliance and specifications of the food safety plan. The pass did not, however, extend as far as forgiving a complete lack of a written plan. "Show me your food safety plan" has, indeed, been a key part of inspections. We are also hearing of inspectors who clearly do not understand what the PC regulations require which is creating anxiety for food companies when they know what the rule says but the inspector does not.
3. Focus on Environmental Controls and Increased Recalls.
We said: With FDA inspectors conducting environmental sampling/swabbing and use of PulseNet, we are likely to see more recall requirements with specific time frames and more voluntary recalls. Make sure you have done the best you can with your environmental control program, especially if you make ready-to-eat foods.
What we got right/wrong: While we haven't noticed any extensive increase in recalls – yet – FDA's environmental "swab-a-thons" and whole genome sequence (WGS) testing have definitely become renowned, with WGS able to link pathogenic strains across time and space. When you add to that the FoodNet data showing that the incidences of infections have increased for nearly every foodborne-illness causing bacteria, the second half of 2017 could still bear out our thoughts of increased recalls.
4. Second Round of Compliance.
We said: With the next round of extended compliance dates coming due, small companies and pet food manufacturers will have to be FSMA compliant in 2017, so we can expect to see a mirror effect of 2016's larger company food safety plan implementation.
What we got right/wrong: This is exactly what we are seeing in the industry. Mid- to small-sized companies are gearing up just as the larger companies did last year. Those that are existing suppliers to larger companies appear to have a slight advantage and are more familiar with the process as their large customers educated them on what is needed due to the supply chain requirement that kicked in earlier this year for the larger companies. Overall, however, the smaller companies are not as far along and have more fundamental questions than the larger ones – which is not surprising.
5. Dedicated PCQI Positions.
We said: Companies are becoming more aware of the extent of the duties and responsibilities to which the Preventive Controls Qualified Individual (PCQI) is held and potentially making additional hires or reassessing existing roles to fulfill this.
What we got right/wrong: For the most part, the PCQI functions are being added onto an existing employees' duties and/or several PCQIs are being trained at a single facility to carry the extra work load. Ongoing maintenance of the Food Safety Plan will continue on a regular basis, such as review of pertinent record documentation within seven days of its creation. We've seen very few dedicated PCQI-only positions established, however many new hires are being asked if they have PCQI training as this is seen as a plus in the industry. There also is increasing recognition that the training is helpful but is not the whole answer to managing a food safety plan – and there are anecdotes of some training out there that is not all that great. So, we are seeing trained PCQIs reaching out to outside consultants such as TAG, not only to review their Food Safety Plans and the supporting programs, but to actually write these programs for them.
6. More Pressure on Suppliers.
We said: Because food manufacturers and processors depend on suppliers to provide safe ingredients, suppliers will be scrutinized more intensely with increased verification by the food companies. Third-party verification will increase, and the qualifications of the third party will be further scrutinized.
What we got right/wrong: This is exactly what we are seeing – the larger companies are actively engaging with mid- to small companies to determine if they are in compliance to become an approved supplier. Additionally, the larger companies that have available resources are using in-house auditors to actively verify domestic suppliers for the initial audit on whether a SACODHA hazard is being controlled by the supplier. Once approved, these audits are then being shifted to third-party audits for annual maintenance. Many companies are relying on third-party audits, such as GFSI and FSVP programs. Additionally, the recent release of FSMA's Accredited Third-Party Certification final rule has established a voluntary program for th accreditation of third-party certification bodies/auditors to conduct food safety audits and issue certifications for foreign entities and foods on a consultative and/or regulatory basis. Supply-chain control also continues to be both a major concern and a major challenge. With FSVP now required for some, this too is an area of supply-chain control where U.S. firms are struggling with foreign suppliers who know nothing about FSMA.
7. A Continued Request for Clarification.
We said: As more food industries become compliant with FSMA, the number of questions submitted to the FSMA Technical Assistance Network (TAN) will continue, with industry trade groups solicit information and clarification on specific interpretations and seeking continued guidance updates.
What we got right/wrong: Since its launch in October 2015, the TAN has received 5,374 inquiries (as of May 31, 2017), with 2,876 of those coming in the first year. This means that in the eight months between October and June, the TAN received 2,498 inquiries, with 544 of those coming in May alone. Although the greatest number of inquiries since its launch have been on the Preventive Controls rule (1,967), more than half the May inquiries – 313 – were on the Foreign Supplier Verification Program (FSVP), which is no surprise when compliance to the rule was due by the end of the month. While we don't know how many of these came from industry trade groups, the vast majority of all TAN inquiries has come from industry (4,454), and it appears that they tend to increase as companies scramble to comply as deadlines near. Some of industry colleagues have commented that the TAN system is slow to respond – this is not surprising considering the volume of enquires. We feel that given current FDA resources fast turnaround will continue to be a challenge.
8. GMO Foods.
We said: We can expect to see a continued focus on the regulation/labeling of GMO foods. Although USDA has two years to develop the program, consumers are unlikely to let the matter drop completely.
What we got right/wrong: The GMO debate is not going away – no matter how much science and fact is thrown into the mix, because the debate is more about personal values and emotion than it is about fact. That said, it is interesting to note that there are continually more online blogs and articles stressing the safety of GMO foods. While unlikely to have an impact on those who have already made up their minds, we can hold out hope that those still on the fence at least consider the science and the facts. And while we wait for USDA's program, we can keep an eye out for an FDA campaign to combat misinformation about GMOs in food, for which the agency was given $3 million as part of the bipartisan agreement to keep the government funded through the end of September.
9. Social Media.
We said: We fully expect that social media will continue to play a role in numerous ways – and likely in an area that hasn't yet been addressed, so food companies will need to be prepared to react properly and efficiently, while tracking social media posts about your brand before it becomes a crisis.
What we got right/wrong: Social media is here to stay, and it continues to impact the industry in a major way – as any brand that has had a food-poisoning issue will certainly confirm. And that's not to downplay impact of the regular media, as social media and the press tend to play off one another – with social media frequently hyping anything controversial revealed in the press, and the press knowing what will interest consumers by the current foci of social media. One need only remember the sensationalized headline describing the Regulatory Accountability Act as the "Filthy Food Bill" which cause the phrase to go viral, or even this year's BPI lawsuit against ABC for its 2012 reporting of lean finely textured beef as "pink slime."
10. Changing World Views.
We said: The push and pull of globalization vs. economic nationalism, that began in late 2016 will continue and other global issues will emerge and impact the food industry.
What we got right/wrong: While there continues to be a push toward economic nationalism in a number of areas, we are not seeing a great deal of impact on the food supply. In fact, I would be more likely to say that the pull of globalization is continuing to triumph with FDA and Australia recognizing one another's food safety systems as comparable; China continuing to build its food, and food safety, systems; FDA initiating the process for organizations to apply to be recognized as accreditation bodies for Foreign Facility Certification among the top stories of the first half of 2017.
So, we said that, overall, we expected 2017 to be as action packed as 2016, with the world of the food safety professional becoming ever more complex, and C suites becoming increasingly engaged in food safety as they realize that food safety is likely their biggest risk enterprise wide. I think we'd all agree that that is still a very applicable description for 2017.