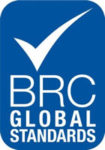 SafetyChain was delighted to recently host an informative webinar with BRC Global Standards Director of BRC Americas – John Kukoly. BRC has been working hard these past few years on ensuring their certified customers have the information and tools they need to meet FDA's FSMA requirements.
As part of BRC's FSMA initiative, BRC Global Standards have rolled out a new FSMA module that helps close the gap between their standards and those of FSMA. A gap that John shared is relatively small (2%!) but nonetheless important to understand. And more importantly, BRC has taken their analysis a step further and have provided a new BRC module to help member companies address the gap.
Along with information about BRC's new module, during our webinar John did a great job outlining the key areas of FSMA companies should be most focused on (did you guess Preventive Controls?!), and provided thoughtful advice on other components of FSMA such as compliance dates and perspective on what he views as the largest challenges that companies are undertaking with FSMA.
At the risk of taking John's thoughts out of context – we especially appreciated his perspective on why FSMA compliance is not just a one-time 'event' that you can check off when completed, but a new standard for your business moving forward.
Commented John, "(FSMA) .. not a single hurdle to get over to, get over and then business as usual. It's a step change. You're going to have to step up to the new elevation and maintain yourself at that elevation. You're right, it's not a project where you can, you know, once done, and let's get on with the regular business. It's a new way of doing business."
This theme about FSMA not being a one-time project but a shift in how companies operate was also discussed by Dr. David Acheson during our last FSMA Fridays discussion we had in July on what being FSMA compliant really means.
SafetyChain recognizes the heavy lift companies are doing right now surrounding identifying gaps in their current food safety programs relative to FSMA requirements, and then updating programs accordingly. But once you have gone through that critical first cycle, the harder yet more important part then becomes 'FSMA compliance phase two' that John mentioned during our webinar of ensuring your updated program is maintained.
And of course we would be remiss not to mention that is where SafetyChain comes into play. We're all about helping the food & beverage industry more effectively maintain (and continuously improve) their food safety and quality programs.
We applaud the efforts of BRC Global Standards, in providing their new FSMA module and their effort as part of the Food & Beverage community in helping meet FDA's new regulations under FSMA.
For information on BRC's new module, and other FSMA-related tools – here are some helpful links: www.BRCBookshop.com and www.BRCGlobalStandards.com
Also a special thank you to GFSR for their support as our media sponsor for this event. GFSR's information hub provides a plethora of great resources and news for the F&B industry – http://globalfoodsafetyresource.com/
To hear this informative webinar recording – access here
And of course if you're interested in learning more about how SafetyChain helps ensure compliance through providing the tools and visibility you need to more effectively manage your programs – learn more or contact us!