The cadence of allergen recalls continues to rise year after year. We would be hard-pressed to find a single day in the last six months or perhaps in the past year where a headline of yet another allergen recall wasn't reported.
Why do undeclared allergens in foods continue to be the leading cause of Class 1 recalls? What is the right approach to curtailing the potential critical risks for your facility and company?
To explore this topic, we asked Dan Bernkopf, SafetyChain's VP Food Safety & Quality Assurance Applications, to share his thoughts on allergen recalls and controls, based on his 30+ years in the industry.
Dan, let's start at the beginning – which food are considered allergen related? And what is the regulatory law surrounding these types of foods relative to allergen control?
US regulatory law identifies eight foods as allergens: Milk, eggs, fish (for example, bass, flounder, and cod), crustacean shellfish (for example, crab, lobster, and shrimp); tree nuts (for example, almonds, walnuts, and pecans), peanuts; wheat, and soybeans.
Regulatory law, simply applied, means that any and all allergens must be declared if present in your product. There is zero tolerance if not they are not declared and are present.
What are the key steps to consider with allergen controls?
The key is always to ask this question: Have allergens been completed and thoroughly vetted in the Food Safety Hazard Analysis? – beginning with today's complex supply chain and including any domestic and/or international suppliers.
It's important to perform a complete hazard analysis for supplier control, storage and process controls, and finished product controls relative to allergen control – all which fall under the FDA's FSMA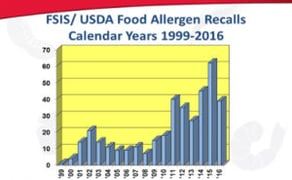 Preventive Controls rules. For supplier control, you will need to complete hazard analysis for an ingredient allergen declaration, for internal or sourced ingredients, and exposure to ingredient by facility or line if allergens are present. You'll also need to do hazard analysis for preventive controls (PCs) with verifications, frequencies, histories, and third-party audits. Other items included in supplier hazard analysis include ingredient labeling including, lot numbers for traceability and recall, and internal verification testing and history.
For storage, hazard analysis is made on systems to control and segregate allergens that you receive and store. Often colored-code systems are employed for items associated with allergens, including tools, cleaning devices, and in some cases, specific processing equipment.
For process controls, teams can control hazard by always running the "allergen formula" last, just prior to a complete sanitation cycle that includes ATP or other accepted validation of compliance. Or they can achieve process control by establishing a dedicated line for specific allergen production.
Finished product controls for a hazard analysis would include exposure prior to packaging if present and verifications in SOPs as well as label control process and verifications.
What are some examples of protocols that should be put in place?
A few examples that come to mind include an error-proof process for receiving, storing and using labels to assure label accuracy – with working verifications and validations processes (ongoing). Also, placing the burden of complex ingredient additions, such as spice blends, with suppliers who will guarantee as well as demonstrate controls. For example, some spice blend formulas may have a dozen or more ingredients. Instead of controlling a dozen suppliers, control one or two that provide a pre-blended spice that can be verified and validated under control. Lastly, focus and demonstrate best-in-class excellence in the storage and handling practices of any allergens under control.
How are companies leveraging SafetyChain to help ensure allergen controls?
Our customers are automating their program tasks and direct observation audits – ensuring requirements are being met in real time. Food safety and quality data is collected electronically, and real-time analysis of data takes place to ensure requirements are being met and providing alerts should there be any non-conformances.
With SafetyChain's secure, online system, all allergen control protocols and workflows, documents, and records are accessible online, for internal access between or among facilities, departments, shifts, teams and decision makers.
How do companies utilize SafetyChain to help better manage certification programs?
With SafetyChain, you can more effectively manage certification requirements, such as GFSI and other certification programs. Program requirements – such as Gluten-Free, SQF, BRC, FSSC 22000, and Global Gap – are housed directly in our system. Customers have the capability to tie one record to multiple requirements, which is important given the large overlap of food safety documentation relative to internal, customer, third-party or regulatory program requirements. Having this single 'source of truth' with easy filtering and reporting capabilities enables more accurate verification of program and audit compliance.
We look forward to a time when allergen-related recalls start to decline, and hopefully one day they will be eliminated. In the meantime, we'll keep the dialog going and keep helping companies more effectively execute their allergen control programs – mitigating the risk of being part of that next headline.
SafetyChain is delighted to continue our contribution to the discussion of allergen recalls with webinar on June 21 – "Best Practices for Avoiding Allergen Recalls" with noted allergen control expert Paul Valder, President of the Allergen Control Group.
Want to learn more about how SafetyChain can help your company more effectively manage allergen control programs? Contact us today.