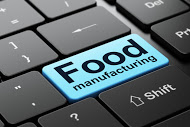 What are your goals for 2014?
Automating audit readiness for your regulatory and GFSI programs?
Automating the parameters of your food safety plans?
Getting rid of paper for a centralized repository of actionable FSQA data?
Getting timely FSQA information for timely Corrective/Preventive Actions?
Automating your approved vendor programs?
These are just a few of the goals we've heard from the Food Safety and Quality Assurance (FSQA) community. Another thing we've heard is that while programs and requirements are growing for food safety and quality assurance, FSQA staffs are not. Everyone has to do more with less, and struggling to figure out how to improve food safety while streamlining costs.
Here at SafetyChain that's what we're all about – helping food and beverage companies automate, streamline and improve FSQA while saving time, saving money and creating operational efficiencies.
We invite you to join us for our January 16 webinar, "How to Automate, Streamline & Improve FSQA with Food Safety Chain Management Technology." The webinar is complimentary and will be an insightful 45 minutes of your time!