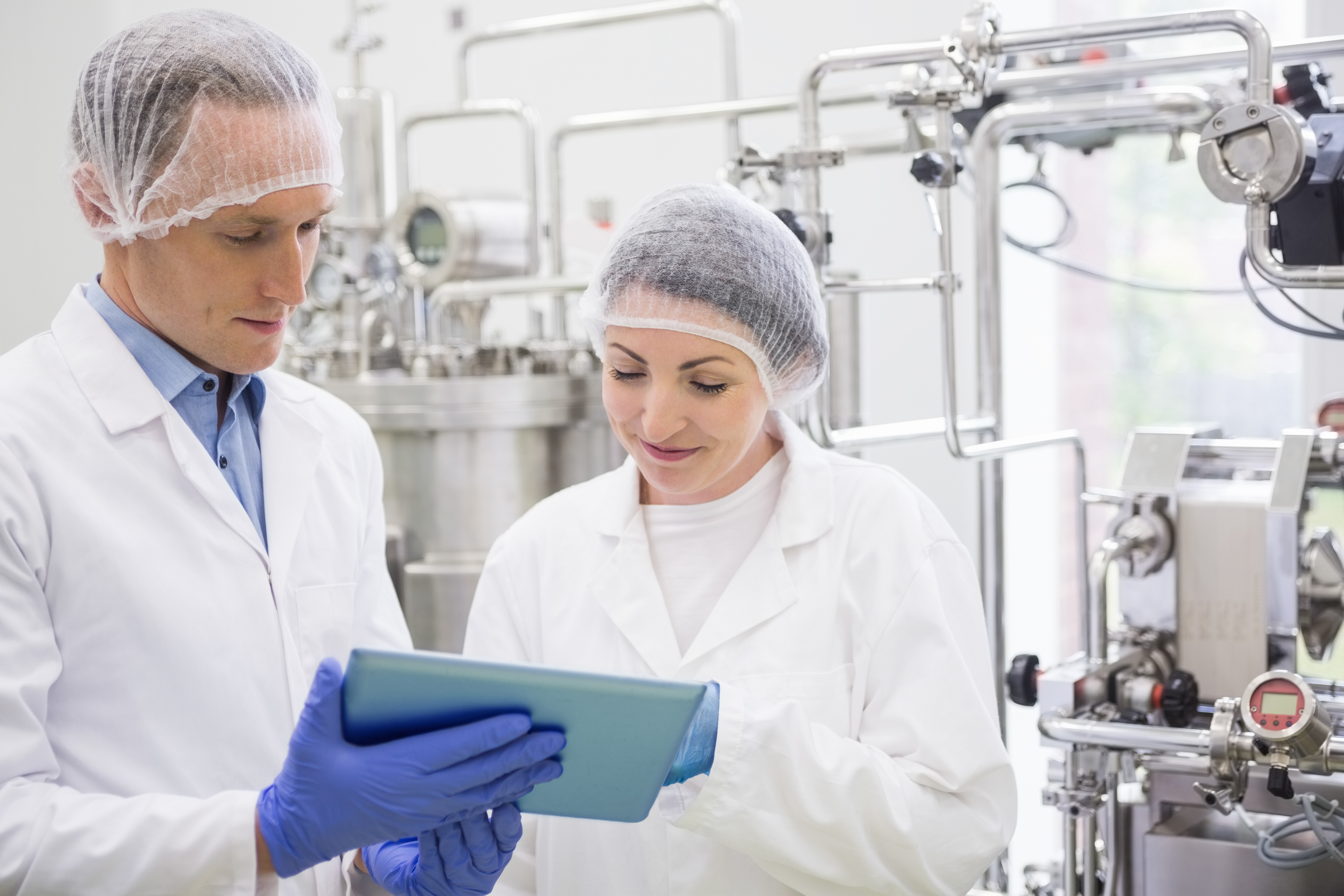 Blog post courtesy of Roger Woehl, Chief Technology Officer, SafetyChain Software.
Many of the food safety and quality issues that eat away the bottom line of food production are found in the "Long Tail" of data collection and assessment.
In the last thirty years, huge progress has been made in the speed at which data can be automatically collected and analyzed. This is true in the food industry where high volumes of food quality, safety, and operational data is collected every few milliseconds, seconds, or minutes.
Solutions to fully automate data collection are plentiful with many vendors and options to choose from. Oddly however, there are few good options for the data collected and analyzed infrequently. Systems to collect and manage the data collected hourly, daily, weekly, or annually are hard to find.
While short interval data collection accounts for the vast amount of data collected, it only accounts for a fraction of the total number of data points that need to be collected in a food production environment. We call this the "Long Tail Problem" and the name becomes evident when we look at the two charts that follow.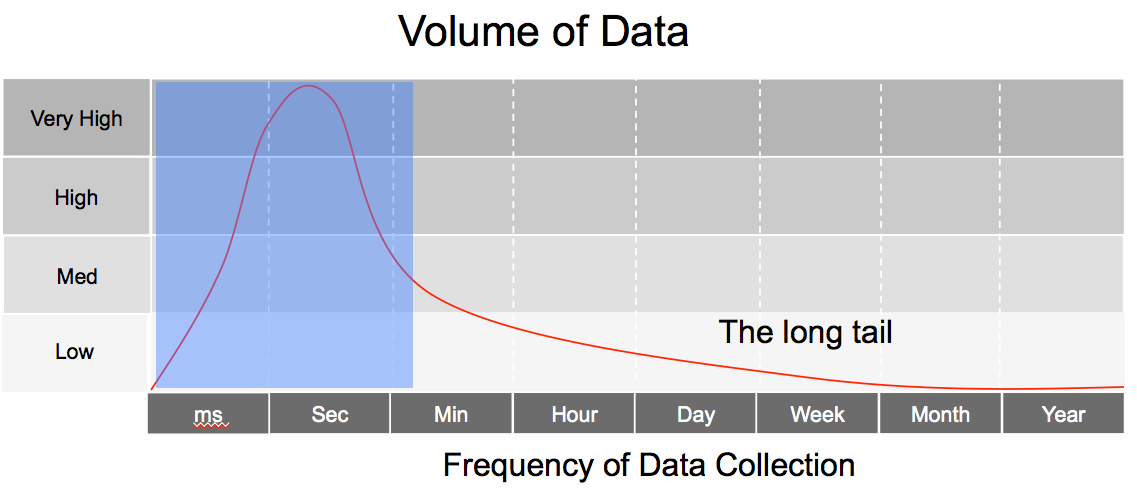 The chart above shows the volume of data collected at each time interval. The blue zone is the region where industrial automation can best help to capture data. The red line to the left is the "long tail" of data that is collected less frequently, in lower volume and with fewer options for automation.
At first glance, industrial automation appears to solve the majority of data collection needs. However, this is only half the story and the chart below tells the rest. Look at the number of different types of data points, and the frequency they are collected.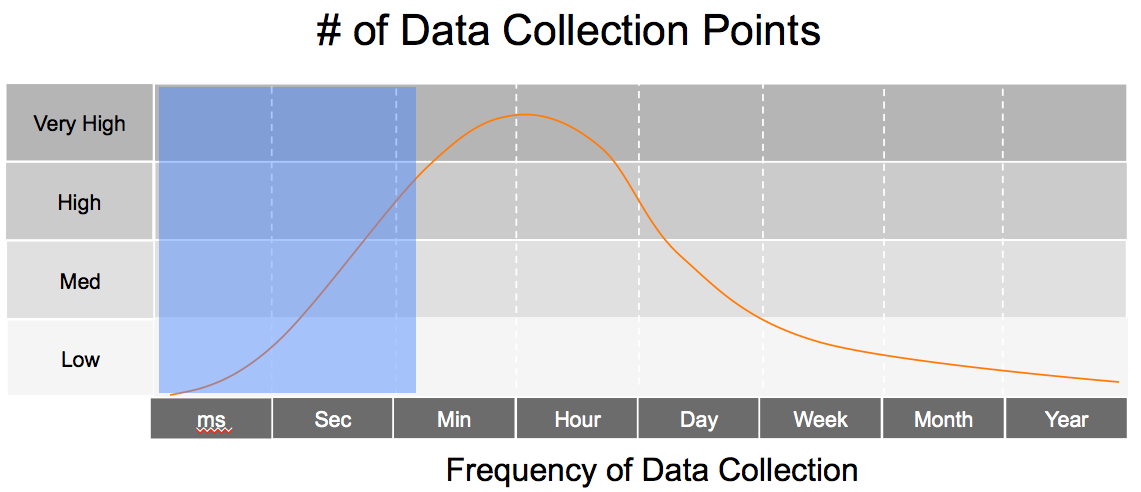 Note that the blue range supported by industrial automation is only a fraction of the total data points that need to be collected. Also note that this data requires some type of automated sensor. What about data that does not have a cost-effective data sensor? Or requires some human assessment? Or what about data that requires some type of operator interaction to collect? The truth is, the majority of data needs are not well supported by industrial automation systems. Let's look at an example.
Let's say that an oven temperature is a critical control point in a baking operation. That data might be collected every second to assess and control the consistency of the temperature. That one probe is producing 86,000 data points per day.
Now consider that the temperature probe needs to be calibrated weekly. How is that information collected? Where is it stored? And how does it get rolled up to the auditor when it is time for an inspection? The calibration is only one tiny data point, but without it, the related 600,000 weekly points have questionable value.
This is just one example of the vast number of different data points that need to be collected to manage compliance in safety and quality programs. Consider these data points:
Pre- and post-operation inspections
Facility audits
Sampling programs
Environmental monitoring programs
End of shift tallies
CAPA assessments
Most mid-size to large food processors have automated the high volume points, but the majority of operational data points are still being captured on pen and paper. As a case in point, one of America's largest beer producers was still generating box upon box of paper forms despite a sophisticated production data automation system. This paper was generated for the infrequent data collection need that could not be automated:
Were the hops bins cleaned?
How where the sharp tools and blades tracked?
Was the rail car cleaned?
When were wash down detergents changed?
By adding SafetyChain, these types of paper-generating sources could be eliminated and quality and safety programs tracked on real-time consolidated reports.
SafetyChain was created to help the food industry solve the Long Tail Problem to achieve better safety, quality, and profitability. The platform helps food companies collect, evaluate, and report on the vast variety of data that is required to be efficient and compliant. It was designed to support all types of data, regardless of the source, and ensure they could be effectively consolidated into a single view. It provides the tools and methods to support both automated and manually-collected data.
Mobile tablets and phones help operators collect information at the source
Robust APIs allow automated data be collected
Real-time evaluation tools assess against defined standards
Real-time exception-based alerts are distributed when there is an issue
Cloud Analytics make useful insights available anytime and anywhere
SafetyChain addresses the Long Tail Problem by focusing on the following, essential two questions:
Does collected data conform to desired specifications?
If data is non-conforming, then why?
While the types of data can be vast, these two questions are nearly universal and provide an effective filter to keep users focused on what is most important to getting product shipped every day.
About SafetyChain Software
SafetyChain is a Quality Management System (QMS) that helps food and beverage companies improve productivity, profitability, and compliance with a flexible, user-friendly software platform that captures, manages, and analyzes real-time operations data.