The majority of the attendees at our Demystifying Industry 4.0 webinar agreed the world isn't slowing down and won't stop changing. A major factor in that change is the speed at which technology evolves. Industry 4.0 and Industrial Internet of Things (IIoT) are major parts of the ongoing shifts happening in manufacturing and production.
Industry 4.0 and digitization of your operations are necessary to stay competitive, but it's not about making these shifts for the sake of doing them. There are no magic bullets to getting it right, but there are steps you can take to increase the chances of success when building, implementing, and optimizing IIoT and Industry 4.0 projects to improve production line efficiencies and maximize productivity.
The Industrial Internet of Things (IIoT) is about generating, aggregating, sharing, and analyzing data to generate keener insights and better operations within an industrial setting.
When interpersonal communications, reporting, production drawings, information storage, and business analyses are converted to - and conducted in - a digital format it is referred to as digitization, and we say it's part of the digital transformation effort.
Chances are, you already have what you need in front of you to find the answers you're looking for. The trick is to step back and reevaluate the why of the work you're doing.
Less than 30% of overall digital transformation initiatives succeed so in this webinar, Josh Payne of Mode40 outlined three main objectives to make Industry 4.0 work best for your operation:
Step back and ask yourself, "Why are we digitizing?"
Review the problems and the opportunities
Encourage the start and/or continuation of the digital journey
Digital Transformation Reality Check in Manufacturing
Since the introduction of Industry 4.0 in 2000, the manufacturing industry has grown more complicated with unique challenges:
Cybersecurity
Labor shortage
Globalization
Regulation and compliance
Manufacturing complexities
Capital costs
Consumer demand
Legacy
The pace of technology advancements and iterations are accelerating and, according to McKinsey, digital transformation projects are "notoriously difficult to scale up across networks of factories." That's why it's important to start now.
Convergence: IT and Automation in Manufacturing
Historically, IT has been primarily responsible for managing front-end networks and platforms such as Enterprise Resource Planning (ERP), marketing and sales tools, Customer Relationship Management systems (CRMs), etc.
Today, a 5-layer architecture pyramid - ERP, Manufacturing Execution Systems (MES), Supervisory and Data Acquisition (SCADA), Programmable Logic Controllers (PLCs), and Input/Output Signals I/O - helps to visually organize and think about layers of application and system management. IT and OT are fundamentally linked by basic technology implications around compute, storage, and network and underlying cyber risk of their operations as they interoperate.
Since acquiring meaningful information from the production-related data in manufacturing has not been exhausted yet, there are still many opportunities out there. As components of automation become more affordable and can do more, it is becoming much more realistic and fundamental for a business to transform and implement IIoT into their operations.
Digital transformation is about being able to properly understand and utilize what you already have, and then adjusting your processes accordingly. Observing the data flow, (how, when, why, and by whom it is generated, captured, stored and shared, and finally used) ensures that you are maximizing the use of your digital technologies, reducing the overall footprint of its cost.
Successful Digitization Takes Time
Usually, failures in digitizing processes are caused by trying to go too big, too fast. Digital transformation doesn't happen overnight or even in a year.
It's the nature of manufacturing to make small, digestible changes because it's generally very capital-intensive to make improvements. However, manufacturers have never had to face the pace of technology improvements, the connected nature of today's technology, and the sheer volume of data they may have today, on top of so many global pressures. Lack of the 'right' data as this convergence takes place is real as manufacturers may be faced with a signal/noise challenge. Examples of challenges for manufacturers are understanding how to better leverage existing technology, uncertainty about the types of data they can extract, and ambiguity about how to capture the data and the right tools for analysis.
The reason it's critical to move towards Industry 4.0 is because the potential reward is projected to be upwards of $15 trillion dollars of economic revenue by 2030.
Knowing how to improve what you have first, implementing what is needed, and taking the time to understand the steps to get there is key to making sure that you don't fail by going too big too fast.
The opportunity is there for everyone, as is evident by how many are already moving. Still, over half of the webinar attendees felt they could use some guidance on how to move forward with shifting to IIoT and building the bridge from today to tomorrow.
The Path Forward: The Journey to Tomorrow in Manufacturing
It's easy to feel overwhelmed considering nobody really knows where the 4th Industrial Revolution will lead to, but it doesn't have to be hard. There are experts and experienced people you can ask for help and with automation and digitization, people will still be a crucial element to leveraging data.
When looking at current business models in a Top-Down setting, we see that decisions are being made without leveraging strong data until much later in an evaluation process. While each organization is different and the types of data or processes will vary, depending on needs and objectives in focus, there are still common themes to learn from. Goals such as increased throughput, decreased waste, improved quality, enhanced safety, etc. will sound familiar in every manufacturing process. Sometimes mapping is required to determine exactly what you need to measure to achieve the business objective.
Is it continuous improvement or is it a different program? Executives will have an objective, but won't necessarily know the details of what's really happening on the factory floor. Conversely, the floor looks up and asks how they are to hit an objective without operational guidance and management. Participants are willing, just needing some help.
Sometimes a third party is necessary to translate between everyone to determine what - if any - data is missing.
Utilizing the opportunities for better and faster decision-making closer to the shop floor, allows for data to be leveraged in a much more impactful way, driving change in an upward motion through the business. This makes sense since everything else about the company is built and determined by the output of the business, only measured downstream from production, by sales, or other metrics. This paradigm shift in agile upstream data utilization is being adopted in manufacturing.
More progressive manufacturers have already put in the time and effort to build digital transformation projects, to varying degrees of success as early adopters. Incumbent manufacturing plants attempt to use elements of digital transformation within their process but are challenged by the existing physical constraints that have been embedded over time such as old, analog equipment, paper, or otherwise manual processes. Newer manufacturers in recent years are implementing digitization as a means of best practice and evolution from design up.
Building A Roadmap to IIoT In Manufacturing
It's helpful to keep things as simple as possible. There are progressive steps that make it easier to make the changes you need to make, to slowly evolve: aggregate, visualize, orchestrate, and automate.
Nothing can be done without meaningful data. If you're not collecting data, you need to start by adding feedback sensors to your process. If you're not getting data to analyze, you won't be able to get optimal results and, ultimately, improvement. Once you have the data, begin to visualize the data (dashboarding) and look for insights that align with your business objective (wins) that reinforce the efforts you're putting into it. There will be elements of tuning when you begin each digitization effort, again a signal/noise issue of too little/too much/not the right kind of data so expect and allow for adjustment here.
Once you begin analyzing your data, you are laying the groundwork for orchestration and, potentially, automation. The effort of reviewing data is essentially also a process review effort that flows into future wider efficiency programs.
Quality assurance, safety, and compliance can have a spot at the table in the conversation by making improvements and demonstrating back to the business that they are not just cost centers, but actually profit enablers. However, they have to show it, to earn it.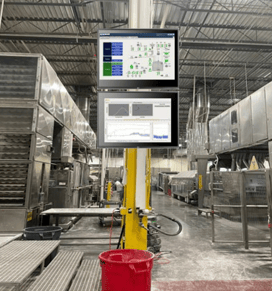 Providing data
c
apture, integration, visibility and optimization reliably will demonstrate the value of data ba
ck to your orga
nizati
on. Sometimes that requires
c
reativity. Sometimes even the smallest te
c
hnology upgrades - su
c
h as shop
floor dashboards or handheld tablets - make big impa
c
ts by improving morale, produ
c
tivity, sense of a
c
c
o
m
p
l
i
shment, and awareness of fit within a system.
The key to success relies on your people because they are the ones with the answers. Operators want to improve efficiency, and managers want to help the operators if they know how. Data helps everyone be a part of the solution, organization-wide.
Digitizing and automation doesn't mean robots are everywhere, but it means being able to find existing knowledge and 'powering it up' with visual data in real-time, so the right people can make better decisions in the moment. Digitization may help mitigate a labor shortage issue by uncovering hidden opportunities you already have before you attempt to automate by creating true work efficiencies for existing staff. Work with your existing personnel.
You can start your digitization project almost anywhere by defining an objective, measuring, and analyzing what you uncover.
Bringing key stakeholders, such as IT, in early will help align multiple teams to key objectives, accelerate planning, and secure needed resources for implementation. This will allow everyone to proactively contribute the data needed to produce the desired outcomes.
Focus on one thing at a time before you look to scale. Eventually, these turn into repeatable processes and you will see natural opportunities for progression. One form, one process, one line, one shift, one product, one facility, etc. For example: Which form is being used for which process on which line, during which shift, and at which facility. From small improvements, you start seeing tangible results such as improved output, increased employee retention from job satisfaction, increased throughput, and increased revenue. Most organizations abandon programs before benefits are realized as even an exponential improvement curve takes time to form.
As you begin digitizing and collecting data, you'll be able to progressively do more to continuously improve your organization from the shop floor to the executive level.
The data you need to make improvements to your performance already exists - because it is a function of your work output. You need to figure out the best ways to capture it and synthesize which doors it can unlock, but that can't be done without modern tools. With the technological, political, economic, environmental, and demographic acceleration of today's age, and knowing that a lot of time and money can be spent inefficiently, manufacturers need help navigating these decisions.
Conclusion
Industry 4.0 and Industrial IIoT are initiatives designed to automate and streamline business processes and business decision-making through the use of technology to remain competitive. This should be seen as a journey and not an end destination. Complex manufacturing journeys require the input of everyone from the shop floor to the executive offices.
In an age of convergence, IT and OT must work together recognizing the issues and solutions each side brings, along with everyone else from finance, operations, safety, quality, etc. if a business is going to adopt positive change without unintended negative consequences. Third-party observers or subject matter experts should be brought in to facilitate a common understanding, remove siloed decision-making, and implement strategic technological improvements. Get the voices together, discover and answer common problems, and even if there is friction, embrace the solutions because what we know inevitably, is that business as usual is not good enough.
Consider the objectives of your organization at each level of management and line staff. Ask how those objectives are being achieved. Even ask how they can be better achieved and someone may have already thought of an idea for improvement, they just need a voice. Open safe dialogue, with frank self-reflection to start transforming the production of your organization, then layer in modern technology data capture and analysis to start improving your profitability.