In Food and Beverage and CPG, it's not just your company's internal performance that matters. Every link in the supply chain plays a role in quality, which is why it's critical to ensure your suppliers are performing to your expectations. A strong supplier approval program should be comprehensive enough to not only minimize risks, but also satisfy compliance regulations such as FSMA's requirement for Foreign Supplier Verification Programs.
As you work to strengthen your supplier assessment procedure and other elements of your approval program, here are a few steps to consider incorporating into your processes.

Supplier Checklist
The foundation of any supplier assessment procedure is a robust checklist listing the steps needed for approval. This will serve as guidance for your team so they can stay on track during the onboarding process. Ideally, it should define roles for each party involved in the process, potentially extending across several departments. The tasks should also be clearly spelled out. Beyond simply developing the checklist, identify ways to follow up and make sure the checklist is being implemented consistently.
Supplier Qualification Checklist
A thorough vetting process will help your company make informed decisions about partnering with new suppliers. The questions should be posed in a way that allows you to assess their quality and safety systems. Format your qualification checklist as a questionnaire. Note that it may need to follow certain requirements; for instance, GFSI requires a specific approval process for raw material, ingredient, packaging, and service suppliers. Additionally, companies are required to document supplier performance and identify risk levels for each.
Your checklist might also include:
Contact information for suppliers
Key safety and quality measures
Third-party audits
The supplier's policy for returning products
All necessary documentation, including certificates and HACCP flow charts, must also be submitted with the questionnaire. Then, your internal quality assurance teams can either reject or approve the checklist, and if needed, issue corrective actions.
Clear Specifications
To ensure your suppliers deliver precisely what you need, you must establish those needs through precise specifications. Aim to get the supplier involved as a collaborative partner from the beginning. This can help to eliminate drawn-out, back-and-forth communications later on. More importantly, they can work with you to create unique specifications, which will help to ensure you have a product that's unlike your competitors'.
The Right Technology
Multiple email threads and disparate programs can hinder visibility and communication in your supplier approval program. Instead, you should have one unified platform—Plant Management Software—to digitize the entire supplier approval process. Through the platform, all of your supplier compliance data, including scorecards and audits, can be easily accessed. Look for a system that also offers a supplier document repository and expiration tracker so you can automate notifications about certificates that are expiring. Notifications for supplier tasks can also be triggered to further save your manager's time. The system should also have a convenient, user-friendly portal through which suppliers can view notifications and upload documents as needed.
Risk Assessments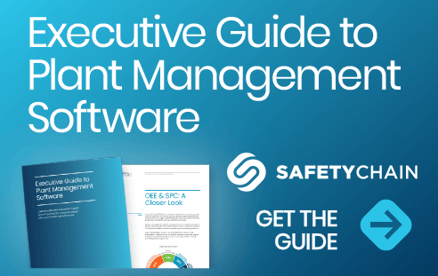 Comprehensive supplier management also calls for a thorough risk assessment. The ingredient itself will play a large role in the assessment. For instance, if it's an allergen or produced in a facility with allergens, it will pose an inherently higher risk than non-allergens. Ingredients used in high volumes or those with a history of contaminations may also be considered high-risk. In addition to biological hazards such as salmonella, be sure to consider chemical hazards and physical hazards as well.
Individual Requirements
Depending on their risk factors, each vendor may need to undergo a unique supplier approval procedure. F&B and CPG companies typically use the findings from their risk assessments to decide which method will be needed for qualification. For instance, suppliers with an extremely low risk may only need to submit the necessary documentation, while other high-risk suppliers may need to undergo audits. With that being said, you must be consistent in your approach and establish the criteria for various qualification activities. Of course, you'll also use methods such as visual inspections and testing and sampling upon receipt of the supplier's goods.
Trial Run
Before you can begin using your supplier's goods or services consistently, set up a trial run first. You'll want to perform inspections for each shipment and use criteria such as compliance with specifications. The supplier should make ample deliveries to ensure they'll be able to successfully keep up with quality in the volumes you'll need.
Approval
One of the final steps of your supplier assessment procedure will be the approval. Once the test results are positive, you can then add the vendor as the newest member of your approved supplier list.
While the supplier approval procedure is important for building out your approved supplier list, you'll also want to maintain your records thoroughly moving forward, too. Instead of physical binders, you should have a database within your Plant Management Software to track ingredients and other key data.
Vendor Scorecarding
While the initial supplier assessment procedure may be a one-time process, supplier management is ongoing. All Food & Beverage or CPG companies have specific approaches they use to encourage supplier compliance. For instance, you might look at feedback from the plant floor, certifications, documentation compliance, and data from receiving to shape your vendor scorecarding. All suppliers should understand how they're being assessed and what's expected of them from the beginning.
In Conclusion: Implementing an Effective Supplier Assessment Procedure
In the Food and Beverage and CPG industries, supply chains are only as strong as their weakest link. By developing, implementing, and maintaining a strong supplier approval program, you can reduce quality issues from the moment products enter your facility. You'll also establish strong lines of communication with your suppliers so that if an issue ever does arise, it can be addressed efficiently.
About
SafetyChain is the #1 Plant Management Platform that improves yield, maximized productivity, and ensures compliance for food, beverage, & CPG manufacturers. Trusted by over 1,500 facilities, SafetyChain is the only complete solution for production (OEE & SPC), food safety and quality (QMS), and supplier compliance.