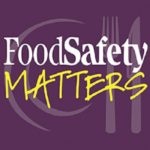 SafetyChain Software is a proud sponsor of Food Safety Matters, a podcast hosted by Food Safety Magazine. Each episode features a conversation with notable figures in the food safety community sharing their experiences and insights of the important job of safeguarding the world's food supply.
Episode 10 of the podcast featured an interview with Mike Taylor, a senior fellow at the Meridian Institute and an advisor to the Food and Society Program at the Aspen Institute. Mr. Taylor was Deputy Commissioner for Foods and Veterinary Medicine at the U.S. Food and Drug Administration (FDA) until June 2016. He is currently a board member of STOP Foodborne Illness and Clear Labs, Inc., and is a graduate of Davidson College and the University of Virginia School of Law.
The magazine's editorial director Barbara VanRenterghem interviewed Mike and her conversation with him includes a look back at some of the highlights of his career in food safety thus far, including his role at USDA Food Safety and Inspection Service, and his tour of the country in support of Food Safety Modernization Act (FSMA) implementation. They talked about his near-decade period of work in academia conducting food safety, food security, and public health policy research, most recently at George Washington University's School of Public Health. During this period he also served as a Senior Fellow at the Partnership to Cut Hunger and Poverty in Africa, and he and Barbara discussed the research he conducted on U.S. policies affecting agricultural development and food security in Africa. The conversation also delved into Mike's current role at the Aspen Institute and oversight of the next wave of gene technology.
The podcast episode also included a discussion between Barbara and publisher Stacy Atchison of recent updates and developments at FDA, including new labeling for peanut-containing foods, the finalization of the FSMA Produce Safety Rule, and delay of the agricultural water compliance dates.
This episode of the Food Safety Matters podcast runs about an hour and is definitely worth a listen – access it here.