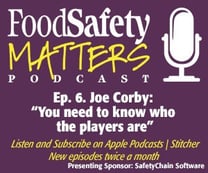 SafetyChain is a proud sponsor of Food Safety Matters, a podcast for food safety professionals hosted by Food Safety Magazine. Each episode features a conversation with a food safety professional sharing their experiences and insights of the important job of safeguarding the world's food supply.
In episode 6 of Food Safety Matters, there was an interesting discussion with Joe Corby who worked for the New York State Department of Agriculture and Markets for 37 years, ultimately retiring in 2008 as the Director of the Division of Food Safety and Inspection.
Corby is currently the Executive Director of the Association of Food & Drug Officials (AFDO), and he serves on the Board of Directors for the International Food Protection Training Institute (IFPTI) and the Partnership for Food Safety Education.
As an outspoken advocate for a nationally integrated food safety system, he continues to work with numerous groups and associations in support of this cause. During this informative Food Safety Matters podcast episode, Joe shares insights on the role of AFDO and what the organization offers to the industry, his involvement in creating an integrated food safety system in the U.S., thoughts on FSMA and the increased focus on manufactured foods, and more!
In case you missed IAFP's annual conference hosted in July in Tampa, FL, prior to the interview, the Food Safety Magazine team – Publisher Stacy Atchison, Editorial Director Barbara VanRenterghem, and Digital Editor Tiffany Mayberry – gave a great high level overview of key topics at IAFP.