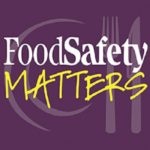 SafetyChain Software is a proud sponsor of Food Safety Matters, a podcast for food safety professionals hosted by Food Safety Magazine. Each episode features a conversation with a food safety professional sharing their experiences and insights of the important job of safeguarding the world's food supply.
Episode 7 of Food Safety Matters featured Scott Brooks of River Run Consulting, LLC. Dr. Brooks talked about his career evolution from veterinary medicine to food safety, his time with the U.S. Air Force as a public health officer and director of Air Force food safety programs, and his experience working with Yum Brands, where he was Director of Global Food Safety and Quality Assurance. Dr. Brooks provides his insights on how the industry's focus on food safety changed after 9/11, and describes what he sees as the challenges food companies are now faced with while balancing new regulations with ongoing requirements.
Prior to the interview with Scott Brooks, the Food Safety Magazine team – Publisher Stacy Atchison, Editorial Director Barbara VanRenterghem, and Digital Editor Tiffany Mayberry – were joined by Bob Ferguson, author of Food Safety Magazine's ongoing Food Safety Insights column. Bob presented findings from a survey conducted by Strategic Consulting Inc. and Food Safety Magazine. In the survey, processors were asked about changes they had made to their environmental monitoring (EM) programs in response to FSMA. The podcast presenters also discussed the survey results of questions asked of processors regarding increasing the number of EM swab samples collected and sampling additional locations prior to FDA inspections.
Environmental monitoring, FDA methodology, FSMA compliance, and discussions of whole genome sequencing are definitely hot topics with food companies. In fact, it was among the Acheson Group's top 10 predictions for 2017 hot topics. We explored environmental monitoring and controls for ready-to-eat food processors in our July and August FSMA Fridays and we invite you to check out the recordings of those sessions.
This episode of the Food Safety Matters podcast runs about an hour and is definitely worth a listen – access it here.