Recap of July's Special Extended FSMA Fridays Session on What Being FSMA Compliant Really Means
[Recap Part 1 of 3]
SafetyChain's FSMA Fridays July session with Dr. David Acheson provided quite a bit of 'food for thought' – with a much needed focus on what being FSMA compliant really means. There has definitely been an uptick of participation in our monthly FSMA update sessions (we're at 3,000+ series registrants!) with a regular cadence of questions stemming around documentation / record-keeping requirements.
Of course this is not surprising given that the noise surrounding FSMA compliance in the marketplace has grown exponentially as the first compliance date quickly approaches. (Assume a large % of us have September 17 starred on our calendars!). Thus the time was ripe to host this extended FSMA Fridays session to provide some 'clarifications' on what being FSMA compliant really means, and get a bit of perspective from FSMA Fridays participants on their thoughts around this important topic.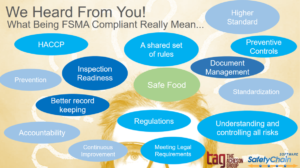 150 + Food Industry Peers Shared Thoughts on What Being FSMA Compliant Means to Them
Prior to this session, we asked our series participants to share what being FSMA compliant means to them. While the question was open ended, we received a natural grouping of answers, with the larger % indicating inspection readiness, better record-keeping and documentation; followed by regulations, legal requirements, shared set of rules - with a smaller subset indicating a higher standard, accountability and prevention.
One participant asked, " … Is FSMA really just a regulatory nightmare or is it driving the industry towards best practices…?" Dr. Acheson responded, "I think there is recognition, I think by many, that this is just driving us all in the direction of preventive control thinking and that strategy, and moving up the matrix from just being adequate to being best in class, which is absolutely what the continuous improvement is about."
"Keep in mind that some of the lift that we're all doing for FSMA, particularly in some of the really complex, challenging areas like supply chain risk control, we're actually doing a heck of a lot for brand protection and it's not just simply a call center for regulatory compliance."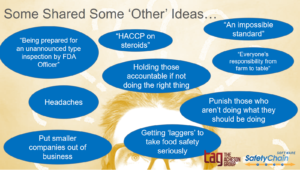 During this session, we also discussed some other ideas around what the audience who shared 'What Being FSMA Compliant Really Means' - key comments from Dr. Acheson included: "FSMA isn't really going to dish out a ton of punishment... some of the trends that we've seen with the Department of Justice is much more about punishing those who aren't doing what they should be doing."
"The HACCP on steroids is another key one. What comes up is, 'I've got my hazard plan and I got my prerequisite programs. Am I good to go? Am I all set?' My perspective on that is you're a long way there, but FSMA takes us the next step. It takes us looking more holistically at risks in our system, from upstream, supply chain, right through our manufacturing processing packing or holding operation what are those risks and how do we manage them in the preventive control type of way and it does not all fit with asset."
Special call-outs were shared to responses that came in around more of "What FSMA is trying to achieve... thoughts on what FSMA embodies"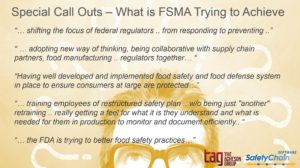 Thank you to all those that responded to our question and shared what FSMA Compliance means to them! And there was quite a bit more shared.. be on the lookout for Part 2 of this session recap -- FSMA is Not A Project. It's a Cultural Shift.
Not a member yet of our FSMA Fridays monthly series? What are you waiting for? visit:https://safetychain.com/resources/fsma-fridays/