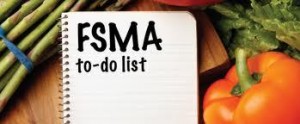 On November 26, 2018 the FDA made first use of the Food Safety Modernization Act's (FSMA) registration suspension authority. Contributing to the suspension was an inspection of testing records that showed the presence of salmonella in 11 instances – and the conclusion that there is reasonable probability of the manufacturer's products causing serious adverse health consequences.
This news was widely reported. I've included two sample links of the coverage at the bottom of this blog – one article that was geared toward food & beverage industry readers – and one geared toward consumers. The "flavor" of the coverage between consumer-focused and industry-focused is notable.
A few thoughts…
In the "consumer" based headline the name of the retailer – vs. the name of the manufacturer – was highlighted. This really hits home that in the end, it will always be up to food retailers and services companies to make sure they have transparency and visibility into all safety/quality assurance testing "farm to fork."
The news also covered the fact that a review of testing records over several years showed several instances of positive test results on product that was shipped. FSMA is designed around the concept of prevention vs. reaction. To get your operation FSMA-ready today, participants along all points in the food supply chain should explore technologies that pro-actively prevent non-compliant supplies/ingredients from coming in – and non-compliant finished products from reaching consumers. By automating the collection of test results and comparing them to specifications in realtime; time/date stamping all results and corrective actions; and sending realtime alerts when non-compliant results are detected – the chance of human error in the FSQA process can be significantly reduced.
The company mentioned in these stories is now effectively shut down. It can re-apply for registration when it's able to show improvements that help ensure the production of safe food.
The lesson? Don't wait! The kinds of technologies that help you get FSMA-ready make sense whether or not compliance is the driver. Solutions such as Food Safety Chain Management save time, save money and create efficiencies while also promoting safety and quality. To learn how SafetyChain can help, download our Food Safety & Quality Compliance Storm position paper here.
More articles covering the FSMA suspension: