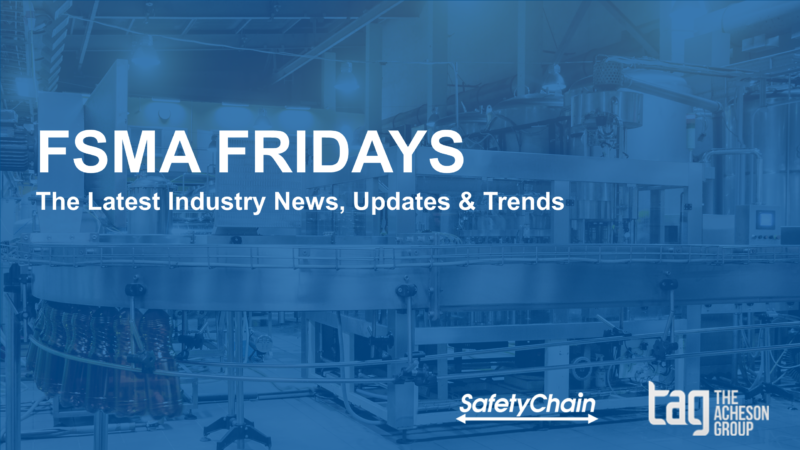 FSMA News
In the past month, the FDA made some noteworthy announcements, including the retirement of Stephen Ostroff, Deputy Commissioner for Foods and Veterinary Medicine. Walmart food safety executive Frank Yiannas will join the FDA to fill a similar role, but his title will be Deputy Commissioner for Food Policy and Response.
The FDA also released two guidance documents on the Produce Rule: the first is on standards for growing, harvesting, packing, and holding of produce for human consumption, and the second is a guide for minimizing food safety hazards of fresh-cut produce. The comment period is open for the next six months.
Finally, the FDA announced four open public meetings in November and December.
FSMA Focus: Preventive Controls Rule for Animal Food
FSMA mandates that pet food must be produced in a safe manner. This is a new concept for pet food manufacturers, and has proven to be daunting for some. Implementing Good Manufacturing Practices (GMPs) and risk-based Preventive Controls (PCs) are also new concepts. Thus, a staggered approach was developed, in which companies were required to implement current GMPs first, followed by PCs a year later. Large and small pet food manufacturers were required to implement GMPs and PCs by this past September, while very small manufacturers have until September 2019 to implement PCs.
For companies that don't already have GMPs, the first step is to establish, train, and document the implementation of them. The second step is creating a FSMA-based Food Safety Plan (FSP). It must be written or overseen by a Preventive Controls Qualified Individual (PCQI) for Animal Food. The Hazard Analysis is the first step to preparing the FSP, in which you consider all foreseeable uses of pet food. A large majority of time should be spent on the Hazard Analysis for both ingredients and processes, and it should involve multiple team members. Consider the biological, chemical, and physical hazards, as well as species-specific hazards. This will help you establish which PCs or prerequisite programs must be developed.
The remaining parts of the FSP are crucial as well. Include facility information, PCs for processes, sanitation, and the supply chain, as well as PC management components for monitoring, corrective actions, verification, and the recall plan. Also include procedures for reanalysis, record keeping, and signatures. You may also choose to include members of the food safety team, a facility overview, and a flow diagram (highly recommended).
Among the top areas of opportunity for improvement seen in the field are over-elevating items to PCs when prerequisite programs could be used, failure to account post-process PC exposure hazards, failure to validate a process PC, and poor PC implementation in the raw pet food industry. Failure to have a signature page of the FSP signed and dated by the PCQI and highest-ranking officer is also a problem widely seen in both human and animal food manufacturers. Finally, failure to enforce current GMPs is a problem witnessed in many animal food manufacturers. It's important to ensure that, even after training is completed, GMPs are being documented, implemented, and enforced effectively.
About SafetyChain Software
SafetyChain is a Quality Management System (QMS) that helps food and beverage companies improve productivity, profitability, and compliance with a flexible, user-friendly software platform that captures, manages, and analyzes real-time operations data. Learn more at https://safetychain.com.