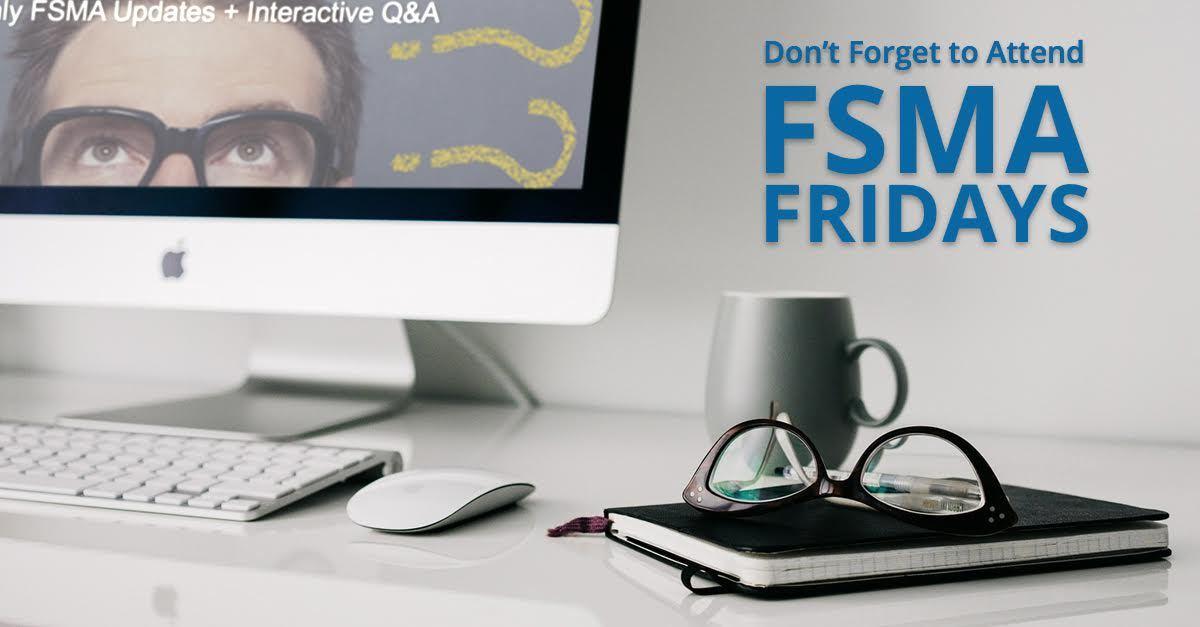 For our July FSMA Fridays session, we took the opportunity to invite food and beverage professionals to submit their most pressing FSMA questions, which are answered below by Dr. David Acheson, Founder & CEO of The Acheson Group.
Q: The next big rule to hit is International Adulteration in July 2019. What do you see the industry doing to prepare for that?
A: The most recent guidance document helps companies identify possible weaknesses where terrorism could take place in their plants. With that said, many companies are struggling with the best approach to take. Some are going overboard, identifying hundreds of vulnerable places in their plants and installing many cages, doors, and locks. This can get very expensive, and probably isn't the FDA's intent. Since there are only 12 months left before compliance deadlines, companies should work on putting a plan in place and reach out to consulting firms if they need assistance.
Q: What should food companies be doing now that most of the compliance deadlines are past?
A: Writing food safety programs is just the starting point. Companies shouldn't relax, because maintenance and execution are the next big hurdles to face. You must be able to show the FDA that you're actually following your programs through monitoring, ongoing verification, corrective actions, reanalyzing, and updating food safety plans. It's all about follow-through.
Q: What are we seeing from regulators in the way of enforcement for FSMA?
A: It is a bit of a "mixed bag." While the FDA originally began with what may have been an approach that was 95% education and 5% regulation, there is now a heavier focus on regulation. The mix may be closer to 25% education, 75% regulation now. We're not seeing much consistency, and there appears to be variability from one jurisdiction to the next. While some multibillion-dollar companies have yet to undergo FDA inspections, other smaller companies may have had three. We're hearing that the FDA is looking at very high-level things, but also sometimes diving into the weeds. They also appear to be looking at validation studies. The industry can benefit from companies that share their learnings moving forward.
Q: What is the FDA focused on currently from a regulatory perspective?
A: The FDA has been very focused on putting out fires. In past years they were able to focus on building programs for FSMA, but now they have turned their attention to issues like the recent romaine outbreak. The FDA is also leveraging lab testing and genetic capabilities more and more.
Q: Has FSMA impacted the rate of "swabathons" from the FDA?
A: While swabathons are alive and well and the FDA is continuing to use them, their use isn't FSMA-derived. They were happening before FSMA, and we'll likely continue to see more of them if the FDA gets the necessary resources.
Q: How is whole genome sequencing playing into FSMA enforcement and FDA actions?
A: Whole genome sequencing is becoming a frequently used tool by the FDA in terms of linking illnesses and situations with food products in specific facilities. The database is growing significantly, with information coming in from all over the world. Oftentimes, however, there isn't a perfect match, so companies should bear in mind that genetic links should simply be viewed as a starting point for investigations. Also, there is no right or wrong answer as to whether companies should sequence pathogens internally if they can hold onto the data. What is important to avoid is being found with a resident strain of a pathogen and not knowing about it, as that's when the FDA will push for hefty recalls.
About FSMA Fridays
FSMA Fridays is the food industry's most popular FSMA webinar series. Hosted by SafetyChain Software and The Acheson Group (TAG), each month we provide content packed update including FSMA news and updates, discussion of regulatory changes, industry trends, and best practices, and live Q&A with TAG. Register today!