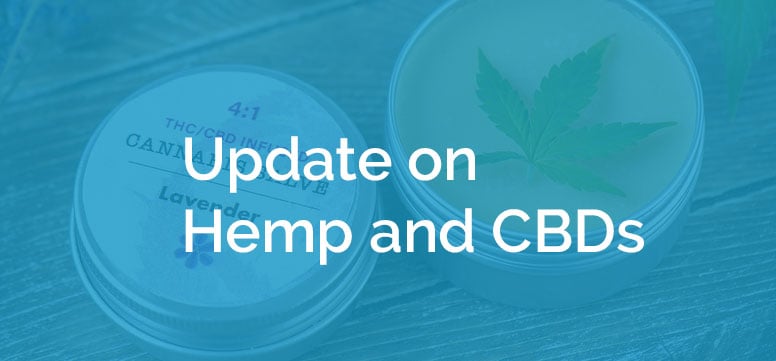 Nowadays, dietary products with hemp and CBD oil seem to be ubiquitous. These ingredients, derived from the cannabis plant, are being infused in food, beverages, and supplements sold in many convenience stores and online. Although these products aren't difficult for consumers to find, from an industry perspective, questions surrounding their legality raise some concerns.
The 2014 & 2018 Farm Bills
The most recent versions of the FDA Farm Bill have touched upon industrial hemp. A cousin of the cannabis plant, industrial hemp was approved for research in 2014, while the 2018 update removed industrial hemp entirely from the Controlled Substances Act (CSA). Nonetheless, this doesn't automatically make all activities involving hemp completely legal.
Industrial Hemp vs. Cannabis
From a regulatory standpoint, industrial hemp is distinguished from cannabis based on its concentration of THC, the plant's component with psychoactive properties. To qualify as industrial hemp, the product must have a concentration of .3% THC or less. Anything above this threshold is classified as the illegal drug, marijuana.
The CBD Hurdle
In a public announcement, the FDA stated that it is unlawful to introduce food or dietary supplements containing CBD or THC into interstate commerce, regardless of whether the substances are hemp-derived. Nonetheless, there may be pathways to get the substances approved, including the pursuit of a formal drug approval process. While this route does require a significant amount of clinical research, it is the process through which Epidiolex, the pure CBD isolate derived from hemp or marijuana, was approved as a seizure medication. On the other hand, hemp products, including whole hemp seeds, hemp seed powder, and hemp oil, without CBD or THC, have been deemed GRAS by the FDA.
Red Rice Yeast: An Example
While the future of the CBD market remains uncertain, historical events may shed light on what we can expect moving forward. Red rice yeast, a substance which has been used for thousands of years for its therapeutic benefits, fell under FDA scrutiny in the 1990s. Dietary supplement makers were using its active ingredient, lovastatin, and making cholesterol reduction claims on their products. Because lovastatin was also an active drug ingredient used in medications to lower cholesterol, the FDA banned it from use in dietary substances.
The CBD oil issues seem to parallel the lovastatin example above. Many companies offering CBD oil are isolating and amplifying CBD, selling it in products beyond naturally occurring levels. Because Epidiolex, the anti-seizure medication, also contains CBD isolate as an active ingredient, the FDA may ultimately ban it from use in dietary products.
Two Major Concerns
The reason CBD products remain prevalent is largely because the FDA and DEA must dedicate their limited resources to larger, more pressing matters. Nonetheless, any food companies looking to use CBD have some major issues to consider. For one, the source of hemp products is a matter of concern, as it must contain less than .3% THC to avoid the classification of illegal marijuana, and to prevent consumers from failing drug tests. For another, companies must be cautious in their verbiage to avoid making any misleading claims. For example, listing an ingredient as CBD oil when the product only contains hemp oil (which only has a small amount of naturally occurring CBD) would be a false claim.
About SafetyChain Software
SafetyChain is a food safety software solution that helps food and beverage companies improve productivity, profitability, and compliance with a flexible, user-friendly software platform that captures, manages, and analyzes real-time operations data. Learn more at https://safetychain.com.