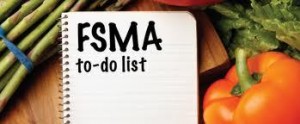 SafetyChain - along with our partners from The Acheson Group - are very excited that FSMA Fridays has now become the industry's largest online, ongoing forum to discuss key topics pertaining to FDA's FSMA - along with practical information to help you begin for compliance. If you've missed FSMA Fridays - you can register for free at https://safetychain.com/resources/fsma-fridays/. Once you register, you'll receive archives to all past topics - AND you only have to register once. You'll receive monthly login info to join as either a webcast or podcast - and automatically get slides/recordings the Monday after each FSMA Friday.
The final rules are close - and FDA's Mike Taylor has said that there will not be a third round of revisions. So if you haven't started preparing for FSMA compliance NOW is the time to get going.
Keep up to date on what's next for FSMA - and how to prepare - by attending these 2015 sessions listed through June. New topics will be added throughout the year.
Friday, January 30: Top 5 FSMA Compliant Challenges; Top 5 things to do NOW to Meet Challenges Head-on
Friday, February 27: What to do NOW to Migrate from HACCP to HARPC
Friday, March 27: Risk Assessment Best Practices; Putting Preventive Controls in Place
Friday, April 24: Everything You've Wanted to Know about FSMA but Were Afraid to Ask;
Friday, May 29: Best practices for environmental controls programs, supply chain controls & finished product testing
Friday, June 26: Two months to go – what best-in-class companies are doing NOW to get ready for FSMA
We hope to see you on our December 19 FSMA Friday - what to expect in 2015 - and at our events in 2015!