Are you a food processor? You need to know about PCQIs. Every year, millions of people get sick from eating contaminated food. That's why the Food Safety Modernization Act (FSMA) requires FDA-regulated food facilities to have at least one Preventive Controls Qualified Individual (PCQI). The PCQI is responsible for developing and implementing the facility's food safety plan.
In this blog post, we'll explain what PCQIs are, why they're important, and how to become one. We'll also share some tips for developing and implementing a food safety plan.
What Does PCQI Stand For?
The Food Safety Modernization Act (FSMA) requires FDA-regulated food and beverage facilities to have at least one Preventive Controls Qualified Individual (PCQI). A FSMA PCQI must have successfully completed the FDA-recognized training program, provided by the Food Safety Preventive Controls Alliance (FSPCA). Or, the individual must have ample job experience to qualify.
For many food and beverage facilities, there is still some uncertainty in terms of how to determine how a prospective PCQI can qualify. Here, we take a closer look at what a FSMA PCQI is and what their responsibilities are.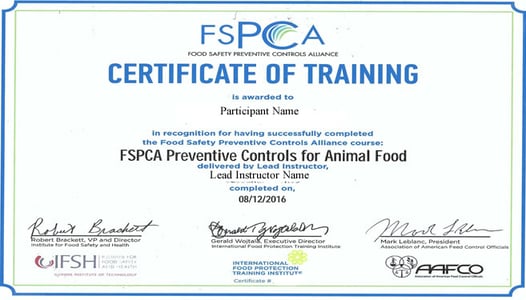 Who Needs PCQI Training?
All facilities that must register under section 415 of the Federal Food, Drug, and Cosmetic Act (FD&C) Act are required to have a PCQI, unless they qualify for specific exemptions. With that being said, the FDA does allow for a single PCQI to serve multiple locations. A PCQI must still prepare or oversee a site-specific food safety plan for each location, however.
Although third-party PCQIs and consultants are available to help develop food safety plans, companies should still have a full-time PCQI employed to ensure compliance. Companies may either choose to hire an employee who already has PCQI certification, or they may send an existing employee for PCQI training. It's also possible that extensive job experience could qualify an employee as a PCQI, but the FDA has yet to outline specific criteria for this.
Are You PCQI Eligible?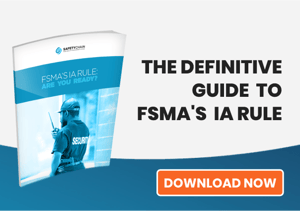 If it is suspected that an individual can demonstrate competence equivalent to PCQI curriculum, it is up to that person to prove to an FDA auditor or inspector that their education and experience is comparable. The precise details on how job experience aligns with the curriculum remain somewhat unclear, which is why many prospective PCQIs are enrolling in an approved course to ensure compliance. Though not required, this could be a preemptive measure that helps to satisfy FSMA requirements.
Under their PCQI requirements, the FDA specifically states that an individual must have "successfully completed training in the development and application of risk-based preventive controls at least equivalent to that received under a standardized curriculum recognized as adequate by FDA or be otherwise qualified through job experience to develop and apply a food safety system." Food safety certifications, including HACCP or GFSI, do not qualify as adequate food safety knowledge on their own. The FDA will gauge adequacy based on a facility's food safety plan, rather than the prospective PCQI's documented qualifications. According to the agency, food safety plan issues will indicate a need for further PCQI training.
Why Having a PCQI is Important
The FDA doesn't simply require a PCQI to be in place just for the sake of having one. The objective of the regulation is to ensure the individual is qualified to create and manage a FSMA-compliant food safety plan. Although many facilities already have an appointed individual for managing HACCP, there are some differences among FSMA and HACCP, which is why the need for specific PCQI is warranted. Having a designated PCQI can benefit a facility in a number of ways:
Strong Knowledge of Federal Regulations
Even though you may have several individuals within your company who could qualify to become a PCQI, enrolling in PCQI training can help employees become familiar with the specific regulations that must be satisfied. Not only does this promote ongoing FSMA compliance, such as the FDA FSVP regulation, but it could also lead to smoother audits.
Hazard Analysis & Preventive Controls Expertise
Again, members of your facility are sure to have hazard analysis and preventive controls experience. Yet, pursuing PCQI certification helps them build on foundational concepts and truly understand how they hazard awareness and preventive controls must be put into place to satisfy FSMA requirements.
A Comprehensive Food Safety Plan
Every food company can benefit from taking another look at its food safety plan. This critical document is the blueprint for systematic approach to identifying and mitigating food safety hazards to reduce the risk of foodborne illness and injury. FSMA food safety plans must include:
A hazard analysis to assess for hazards which would require a preventive control
Preventive controls to minimize identified hazards, including:
Process controls
Food allergen controls
Sanitation controls
Supply chain controls
A recall plan
In addition, the food safety plan should encompass procedures for monitoring preventive control implementation, corrective actions, and verification procedures.
As you might imagine, designing and implementing a FSMA-compliant food safety plan for every facility is an extensive undertaking and great responsibility which calls for the utmost levels of knowledge and experience. Having a designated PCQI helps to ensure your company's food safety plan is airtight.
Recordkeeping Awareness
The recordkeeping requirements for FSMA are robust. Facilities must not only have a thorough food safety plan, but documented proof that it's being implemented effectively. An individual with PCQI certification will have an in-depth understanding of what's needed to maintain compliance.
PCQI Roles & Responsibilities
It is important to note that PCQI training does not guarantee successful fulfilment of the role. According to the FDA's FAQs on FSMA, "deficiencies in the food safety plan indicate that PCQI may need additional training specific to the rule, irrespective of documented training and experience."
The FDA also states that the facility's food safety plan must be prepared by one or more PCQIs, and that these individuals are charged with overseeing the validation that the established preventive controls are effective in controlling the facility's identified hazards. Finally, the PCQI is responsible for records review to ensure the effectiveness of the food safety plan.
Who Should Get PCQI Certified?
You can hire individual PCQIs to oversee your food safety plan and monitor preventive controls, but it may be more beneficial to have the right people within your organization PCQI certified, instead. Your existing managers and employees are already familiar with operations and your company and product(s). If your company decides to do this, there are certain key employees that should be considered for the training:
Plant managers
Maintenance managers
Safety managers
Sanitation supervisors
Production managers
Quality managers
Since these managers already understand your operation, getting them PCQI-certified will only increase their abilities and contributions to your business.
How to Get PCQI Certified
PCQI training is available through the Food Safety Preventive Controls Alliance (FSPCA). The FSPCA is a leader in food safety developed by the FDA in cooperation with the Illinois Institute of Technology's Institute for Food Safety and Health (IIT IFSH). It is made up of representatives from the Food & Beverage industry, academia, and scientific associations.
Again, the FDA does not specifically call for training through the FSPCA, completion of a Preventive Controls for Human Food course could be a wise proactive measure to help satisfy the PCQI requirement of FSMA.
About SafetyChain Software
SafetyChain is a digital plant management platform for process manufacturers trusted by more than 2,000 facilities to improve plant-wide performance. It unifies production and quality teams with data and insights, tools, and delivers real-time operational visibility and control by eliminating paper and point solutions.
Learn more at https://safetychain.com.