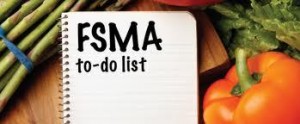 We had a great FSMA Friday on November 21 - as always with our great partners from The Acheson Group - that covered, "What's Not Going to Go Away in the Final FSMA Rules - and What You Should Be Doing TODAY to prepare for compliance. If you're registered for FSMA Fridays you should have received the archive. If you aren't registered, and would like to listen to the entire session, register at https://safetychain.com/resources/fsma-fridays/ - all registrants get access to all archives.
There were four key areas in which the Acheson team said food and beverage companies that will be impacted by FSMAshould be working on now:
Qualified Individual: Companies should be determining who their QI, as defined by FSMA rules, should be - and determine what training that person will need. FDA will also be making a QI class available.
PRPs - Preventive Controls: Food safety and quality assurance (FSQA) teams should be examing all Prerequisite Programs to determine which will be Preventive Controls.
Supplier Controls: It's key to begin to ensure that you have programs and systems in place to make sure that your suppliers are following all of your safety plans/requirements to a "T."
And last, but certainly not least: BEGIN TO DETERMINE HOW YOU WILL ENSURE THAT EVERYTHING IS DOCUMENTED - and how you can have fast access to up-to-date, accurate documentation.
This was a great, informative session and I hope all of you access the archive. Also, be sure to join us on December 19 for a special FSMA Friday where we'll be examining What to Expect for FSMA in 2015! And of course, SafetyChain can help you with #2, 3 and 4 above! If you'd like to know how, contact us at info@safetychain.com and go here to download our How to Automate a FSMA Ready Food Safety Plan whitepaper!