Food Safety & Quality Folks Aren't Sitting at Their Desks All Day ... So Neither Should Their FSQA Automation Tools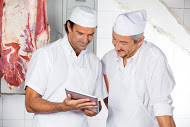 If you're like many food safety, quality and operations folks – you're recognizing the benefits of automation to streamline and improve FSQA. But you're not sitting at your desk looking at a computer all day! You might be offsite auditing high-risk suppliers ... doing quality checks at the receiving dock ... performing HACCP checks on the plant floor ... monitoring temperatures on store shelves ... or meeting with regulators and auditors.
That's why today's FSQA Mobile Apps are becoming a real game changer for automation initiatives.
My colleague Dan Bernkopf and I have created a new eBrief that explores how FSQA teams, like yours, are taking the power of FSQA automation with them "on the go" to:
Eliminate redundant data entry with "once and done" data collection – at the point of origin – on mobile forms
Ensure all FSQA tasks are correctly completed and documented
Reduce waste and rework with realtime data analysis, NCR alerts and CAPA generation
Respond on demand to audits and inquiries from anywhere, at anytime
Eliminate "data rich but information poor" syndrome with a central repository of accessible, actionable data
To access the brief visit here.