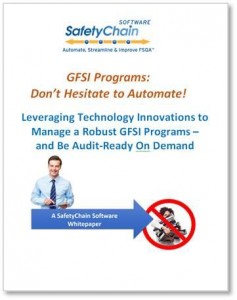 GFSI has become the absolute global standard for ensuring food safety along the supply chain. In fact, a recent study by IFSQN showed that 65% of food companies are already certified in a GFSI scheme; 25% are in the process of becoming certified; and 5% need to start the process. But for already resource-strained food safety and quality departments, managing GFSI programs can present challenges.
Additionally, many of the schemes are looking toward unannounced audits – this has already been announced by SQF – which is a necessary move to ensure food safety, but can add to what many FSQA folks refer to as 'audit fatigue.' Leveraging food safety technology innovations can help companies automate a very robust GFSI program, be audit ready all the time and not drain FSQA resources.
That's why we're excited to offer this complimentary new whitepaper, authored by yours truly, which provides insight on how to automate, streamline & improve your GFSI program. And if you're in or considering the certification process, you'll learn how technology can help you deploy and manage a robust program from Day 1."
The paper is offered as a complimentary download to interested food safety and quality professionals who's food and beverage companies are certified in, or planning to become certified in, a Global Food Safety Initiative (GFSI) scheme, such as SQF, BRC, FSSC 22000, IFS, PRIMUS GFS, Global Gap, CANADA Gap and other recognized, benchmarked schemes. The paper can be downloaded by clicking here.
Paper topics include how to leverage Food Safety Chain Management technology to:
Eliminate the mountains of paper associated with GFSI program management
Ensure GFSI version control
Automate the scheduling and monitoring of all required programs – such as HACCP/HARPC, Standard Operating Procedures (SOPs) and more
Create a central repository of all GFSI-required data for performance trending and continuous improvement
Automate the management of GFSI and FSQA approved vendor programs
And … be audit-ready on demand – even for unannounced audits
We hope you enjoy the paper - leave a comment and let us know what you think!
And, if you haven't registered yet for our GFSI Leadership Webinar Series, visit www.safetychain.com to learn more.