What Is GFSI?
The Global Food Safety Initiative (GFSI) is an organization whose purpose is to enforce food safety through internationally-recognized benchmarked standards. Becoming GFSI certified helps food manufacturers and processors stay competitive, produce safer products, and improve performance in a number of key areas. If your company is considering certification in one of the GFSI schemes, this guide will help you determine which option is best for your needs.
GFSI was launched in response to a series of high-profile food recalls in 2000. To restore confidence in the food and beverage industry and develop an internationally-recognized benchmarking system for food safety, the organization unveiled a series of GFSI standards. In doing so, they have also helped to reduce audit fatigue. Prior to this unified system, retailers would perform inspections themselves or recruit a third party, forcing food companies to undergo many different audits despite significant overlap between safety and quality initiatives.
The first set of GFSI standards were published in 2001. Yet, it wasn't until two years later that the first GFSI recognized schemes emerged.
What Are GFSI Benchmarked Schemes?
While the GFSI established a series of standards to promote international food safety, it is not a certification program in itself. Thus, it does not conduct any audits or certification activities. It does, however, act as an authority over a series of schemes, known as GFSI benchmarked schemes.
GFSI recognized schemes are food safety certification programs which perform accreditation activities, enabling companies to become GFSI certified. To obtain certification, companies can achieve a successful audit against any of these schemes.
What Are the Benefits of Becoming GFSI Certified?
A Strong Focus on Safety
GFSI standards help your company ensure safer products. Certification to a GFSI-recognized standard offers shared risk management tools, so food safety management is optimized across the entire supply chain. With certification, your food safety management system will improve continuously as standards evolve.
Resource Optimization
While becoming GFSI certified requires an initial investment of time and labor, the benefits of certification are well worth the effort. With fewer audit redundancies, for example, you can focus your company's time and efforts on larger goals. Additionally, complying with GFSI standards helps you achieve reduced failure, which can also have a positive impact on your bottom line.
Enhanced Performance
Certification can drive internal business results as well. A study on GFSI published in 2017 revealed that nearly 90% of respondents felt becoming certified helped to address food safety concerns, and 74% would become certified again even if their customers did not require it. The majority of companies also experienced improvements in Key Performance Indicators (KPIs) in the year directly after becoming GFSI certified.

What Are the GFSI Recognized Certification Schemes?
1. SQF – Safe Quality Food Program
The Safe Quality Food (SQF) Institute is recognized by retailers and major brand owners globally who call for a thorough, dependable approach to food safety. The SQF certification program has evolved over the years to adapt to retailer and supplier needs. In edition 9, implemented in 2021, the separate document audit for initial certification was eliminated. The initial document audit has been incorporated into a single certification audit process. What previously was referred to as Levels 1, 2, and 3 are now referred to as SQF Fundamentals (the global markets option), Food Safety Code (HACCP + GFSI), and Quality Code respectfully.
The unique value of the SQF Food Safety Certification is its structure and guidance provide clear expectations for the policies and programs necessary for a robust system but provides the flexibility for the site to determine appropriate implementation procedures based on the site's unique process and product characteristics. SQF certification also includes the listing of the products covered by the certification for additional transparency. SQF has a robust FSMA addendum to accompany the SQF Food Safety Code for assurance of FSMA compliance for domestic and foreign suppliers. SQF codes cover all sectors of the supply chain from produce and livestock production, manufacture of food, packaging, supplements, feed and pet food, aquaculture, storage and distribution, food service, and retail operations.
SQF is the most popular scheme in North America and has an option for Quality certification for sites to demonstrate their
commitment to consistency in product characteristics and customer focus. Companies that pursue SQF certification can reduce the need for redundant assessments as well as the costs of multiple assessments. The SQF Quality certification is available to any site with a HACCP-based food safety certification in place, not just SQF-certified sites.
The SQF Food Safety Code is available for:
Food retailers and food service operations

Food, Feed, and Pet Food Manufacturers

Dietary Supplements and their ingredients

Meat and dairy livestock operations

Aquaculture

Primary production of produce

Specialty available in Indoor Controlled Environment Agriculture

Manufacturers of food packaging

Storage and distribution companies
The SQF Fundamentals global markets audit program is the right choice for suppliers whose customers request a global markets audit, designed for sites just getting started with their food safety system. The SQF Food Safety Fundamentals certification includes primary production for produce and livestock, and food manufacturing and can also be adopted by packaging manufacturers and distribution centers. This is a good option for sites advancing their programs in preparation for full GFSI benchmarked certification to the SQF code in the future, a step up from GMP audits.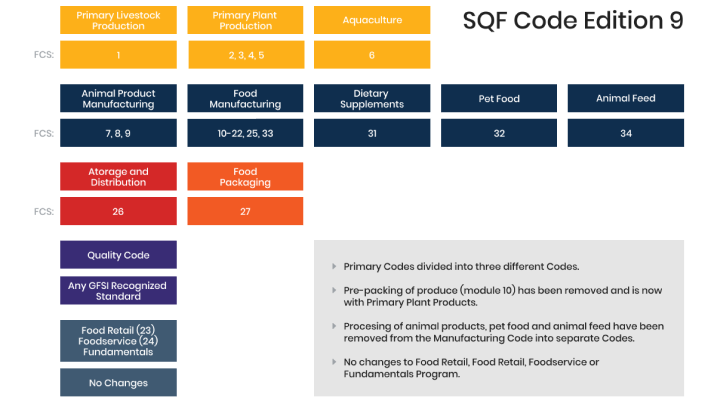 2. FSSC 22000
Like the other schemes listed here, FSSC has food safety outcomes similar to FSMA's. More than 18,000 companies in over 140 nations have received certification in FSSC 22000, which is based on existing ISO standards.
The audit scheme features three core components:
ISO 22000: This acts as a framework across the supply chain for the management of requirements, communications, and continuous improvement.

Sector-specific Pre-Requisite Programs (PRPs), such as ISO/TS standards/BSI PAS

Additional components: Specific components are added for consistency, integrity, and management of the scheme.
3. BRC
BRC Global Standards is the largest GFSI scheme in the world. Unlike the other schemes, however, it keeps its standards in place for longer periods of time, so the changes with each new version are significant. Its objective is to bring consistency to food safety standards throughout the supply chain, and it focuses on facilitating trust and confidence.
It is divided into seven sections: senior management commitment and continual improvement, HACCP, food safety and quality management system, site standards, product control, process control, and personnel. There are several scopes of the certification:
The BRCGS Global Standard for Food Safety

is available for producers of foods such as fruit, vegetables, poultry, meat, and aquaculture. It can also be pursued by packing and processing plants, as well as food service companies.
The BRCGS Global Standard for Packaging and Packaging Materials is available for manufacturers of packing materials for both food products and non-food items.
The BRCGS Global Standard for Storage and Distribution is for warehousing, storage, transport, and logistics agents, brokers, and providers.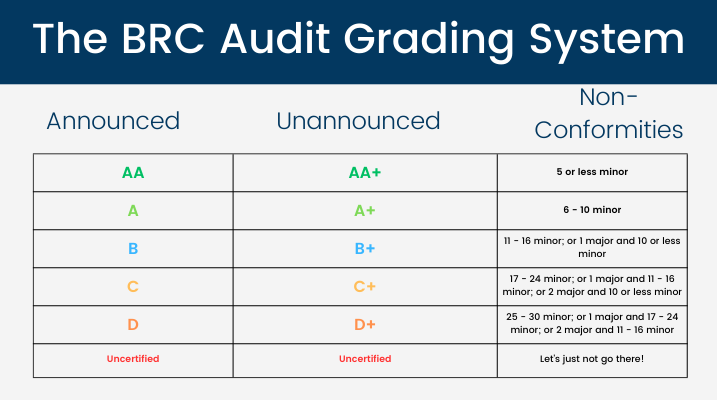 4. PrimusGFS
PrimusGFS is a GFSI benchmarked standard and is commonly sought after by buyers in the Western Hemisphere. It is available for products in the produce sector, ranging from growing operations to fresh-cut products. The audit scheme is endorsed by more than 7,000 companies and provides total produce supply chain coverage.
PrimusGFS certification is available for the following businesses:
Ranches/farms

Indoor agriculture, including greenhouses

Harvest crews

Storage and distribution companies

Cold storage

Packaging and processing plants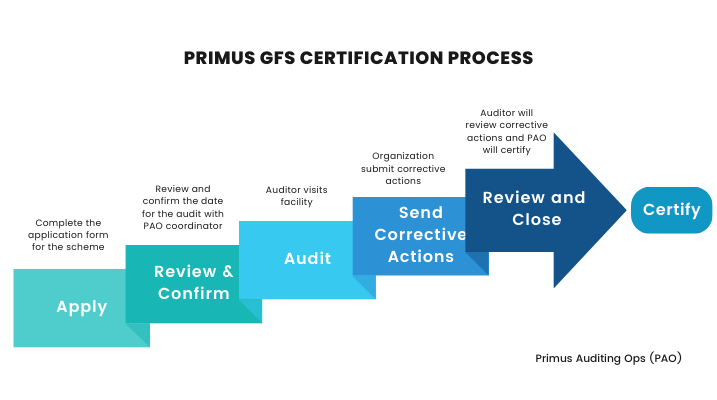 5. IFS Food Standard
International Featured Standards (IFS) is more common in Europe than in the U.S., but some North American countries find it beneficial to become certified in the scheme. The objective of the scheme is to promote the safety of processing food and loose pack food products and minimize the risk of contamination. It focuses on senior management responsibility, resource management, pre-planning, and productivity to maintain safe, quality products. All types of food manufacturers can become certified in the scheme, but it is particularly useful for aligning with customer requirements and specifications. It has recently added a section on food fraud to more closely align with the outcomes of FSMA.
Certification is available for the following IFS standards:
IFS Food: This scheme covers the full scope of processing, handling, and primary packing of loose foods and is available for any processors or packaging companies, including private labels.
IFS Global Markets Food: Available for retailers and industry branded products, this standard emphasizes the development of food safety management systems for small businesses.
IFS Logistics: Companies involved in any aspect of logistics of food and non-food products are eligible for this standard.
6. Global G.A.P.
Global Good Agricultural Practice (G.A.P.) is a global standard promoting safe, sustainable agriculture. Certification is available for three scopes of production: crops, livestock, and aquaculture. It aims to minimize the negative impacts of agricultural activities on the environment, and promote a responsible approach to managing the health and safety of employees, along with animal health.
Global G.A.P. schemes for farmers and producers are available in the following key areas:
Integrated Farm Assurance (IFA) for fruits and vegetables
Hops
Produce Handling Assurance Standard (PHA)
Poultry
Compound Feed Manufacturing
o GRASP: worker health, safety, and welfare
7. Global Read Meat Standard (GRMS)
The GRMS is a global standard established to promote "transparency within animal welfare, quality, food safety and hygiene" relative to facilities that handle red meat or meat products. It has been formulated to address specific requirements relevant to the meat industry, with a value chain focus on manufacturing.
It's In Your Hands
While there are several GFSI schemes to consider, understanding the basic principles of each can help you make an informed decision for your company. Once you've chosen a specific scheme and become certified, the next priority becomes ensuring ongoing compliance. For more information on how to promote GFSI compliance, download our free ebook, 4 Key Ways Technology Helps Ensure GFSI Compliance.