Looking to prevent food contamination, increase brand confidence, and secure bigger contracts? More and more food manufacturers are pursuing ISO certification to stay competitive and mitigate risk. A single foodborne illness outbreak can damage a company's reputation and cost millions of dollars. Many large retailers and foodservice companies require their suppliers to be ISO-certified because it demonstrates that a company has a strong commitment to food safety. In this blog, understand the advantages of ISO-certification and how you can become eligible.
ISO stands for the International Organization for Standardization. This standard-setting body was created in the 1940s in London and promotes standards across a wide range of industries. As the official ISO website states, ISO standards could pertain to "making a product, managing a process, delivering a service, or supplying materials." They apply to manufacturers, sellers, buyers, users, regulators, customers, and trade associations. Thus, they are not exclusive to the food industry, and can indeed benefit manufacturing of many types, including consumer packaged goods (CPG).
There are several types of ISO standards, including those for environmental and energy management, health and safety, IT security, and quality management. Additionally, ISO has specific food safety standards to minimize the risk of food contamination.
Why Are ISO Standards Important?
Manufacturers of all sizes have a responsibility to produce safe goods that support the wellbeing of consumers. For instance, in the food industry, unsafe products can have devastating consequences, which is why the overarching goal of ISO standards for food safety is controlling hazards across the global supply chain.
What Are ISO Standards for Food Safety?
ISO standards help Food & Beverage companies promote brand security by keeping their customers safe and satisfied with products that can be trusted. They give consumers added confidence, which is especially important in a time when foodborne outbreaks, recalls, and illness from contaminated foods are among the public's top food-related concerns. There are also ISO standards to help promote the safety of other products. ISO 10377:2013, for instance, offers guidelines for suppliers to achieve consumer product safety.
Oftentimes, ISO certification can also help companies become more efficient by enhancing systems and procedures. Becoming certified can help companies understand the preventive quality and safety measures that should be put in place, but it can also aid in the establishment of streamlined documentation, techniques, and procedures. ISO standards call for a clear plan, which can result in a positive impact across the entire facility.
General Requirements of ISO Standards
Requirements for ISO standards vary from one type to the next. In general, however, the standards call for companies to implement policies, processes, and procedures to support safe, high-quality products and services. ISO formalizes these activities with the goal of improving customer satisfaction. ISO also aims for continuous improvement, so certified companies must stay up-to-date with the latest versions of standards as they're released.
ISO standards such as ISO 9001 have both mandatory and non-mandatory requirements. While companies must comply with mandatory requirements, non-mandatory requirements can be submitted for documentation. For example, while a company would need to show documents outlining their equipment calibration processes, a non-mandatory requirement would be documents that describe their sales procedures. There is much more paperwork typically required for ISO standards, including:
Records for employee training
Records for the review of products or service requirements
Records for inputs, outputs, and controls for design and development
Records for conformity of products and services with acceptable standards
Records for nonconformances
Results for monitoring
Results for internal audits, management reviews, and corrective actions
Types of ISO Standards
ISO reports that they have published more than 23,000 individual standards that cover nearly all aspects of manufacturing and technology. Some are more popular than others, with the following being among the most common across manufacturing.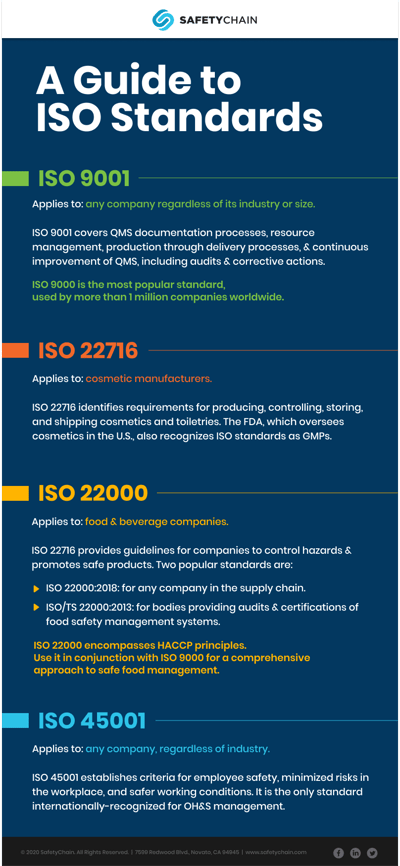 ISO 9001
The ISO 9000 family establishes criteria for a quality management system. ISO 9001 is the only standard within the family that can be certified to, and can be used by any company regardless of its industry or size. The standard is so ubiquitous that more than one million companies across 170 nations are certified in it.
The quality management principles outlined by ISO 9001 emphasize customer satisfaction and aim for continuous improvement. According to the American Society for Quality (ASQ), ISO 9001 covers:
QMS requirements, such as documentation, and the planning and implementation of process interactions
Management responsibilities
The management of resources, including human resources and the physical work environment
Steps for product realization, from design through delivery
Activities that support the measurement, analysis, and improvement of the QMS, including internal audits and corrective or preventive actions
ISO 22000
ISO 22000 identifies requirements for a food safety management system, including the processes and procedures a company must follow to control hazards and promote safe products. Food & Beverage companies can be certified in this ISO standard.
Two popular ISO standards for food safety are:
ISO 22000:2018, Food Safety Management Systems – This standard features requirements for any company within the supply chain
ISO/TS 22003:2013, Food Safety Management Systems – This standard features requirements for bodies providing audits and certifications of food safety management systems
Companies of any size throughout the food supply chain can apply for ISO 22000 certification. The standard encompasses HACCP principles and can be used in conjunction with the ISO 9000 for a comprehensive approach to high-quality, safe food management.
ISO 22716
ISO 22716:2007 provides guidelines for producing, controlling, storing, and shipping cosmetics and toiletries. It covers quality aspects of the product itself but does not encompass employee safety. The FDA, which oversees cosmetics in the U.S., also recognizes ISO standards as GMPs.
ISO 45001
ISO 45001, Occupational health and safety, is the only standard internationally recognized for occupational health and safety management. It promotes employee safety, minimized risks in the workplace, and safer working conditions. The standard is structured similar to others, including ISO 9001, and will therefore be familiar to anyone who has implemented other ISO standards in their companies.
Advantages of ISO Certification
There are several benefits of becoming ISO certified:
Attract more customers
Because ISO is globally recognized, becoming certified opens up opportunities to reach broader markets. Many companies seek out ISO-certified companies, so your certification could allow you to attract bigger customers that help your business grow.
Demonstrate your commitment to safety and quality
ISO certification proves that you have created and implemented procedures and policies to produce high-quality, safe products. For example, ISO 22000:2018 requires food manufacturers to identify and control hazards such as cross-contamination and microbial growth. These certifications can increase confidence in your brand and reduce risks for companies who partner with you.
Reduce audit frequency
Since ISO is a trusted body that indicates a company's commitment to following GMPs, it may satisfy many of your customers' auditing requirements. This can prevent the need for redundant audits, freeing up time for your personnel to focus on high-value activities.
Promote safety and quality
ISO certification will help your company establish and implement a framework for safety and quality. This will help to reduce errors, save time, and ensure safe, high-quality products are being delivered to your customers. In fact, ISO certification can help food manufacturers to reduce foodborne illness outbreaks by up to 50%.
How to Become Eligible for Certification
The process for becoming ISO certified is straightforward, though it will require ample preparation.
First, decide which standard(s) you'd like to become certified in. Compare the complete list of ISO standards with those accepted by your customers (or the customers you're targeting) to determine which would be the best fit.
Next, familiarize yourself with the standard to determine how to develop and implement a safety or quality system that will satisfy the standard.
Finally, have an audit performed by a Certified Body to assess your system against the standard.
About SafetyChain Software
SafetyChain is a digital plant management platform for process manufacturers trusted by more than 2,000 facilities to improve plant-wide performance. It unifies production and quality teams with data and insights, tools, and delivers real-time operational visibility and control by eliminating paper and point solutions.
Learn more at https://safetychain.com.