In this blog, we discuss how to improve operational management in manufacturing by using key performance indicators (KPIs) with a tiered management system.
A well-oiled machine can last for decades, but it should undergo regular maintenance to improve efficiency and address errors that arrive. The same can be said for an entire operational management system (OMS).
In this two-part e-guide series, Boosting Existing Systems & Resources to Maximize Production, we provide in-depth, step-by-step guides for enhancing your existing OMS. Part one of the guide, Developing the Framework & Tools for Effective Operational Management, provides changes manufacturing leaders can make to set themselves up for success. Part two of the guide, Addressing Errors & Abnormalities: Proven Methods, is all about troubleshooting common challenges manufacturing operations managers often face.
In this blog, we provide some highlights of approaches manufacturing leaders can implement today for increased production efficiency in your OMS.
Topics include:
KPIs: From Buzzwords to Profit
There's no shortage of the importance of key performance indicators (KPIs) across most if not all industries. Yet there's still confusion about what KPIs are and — more importantly — how to use them for improving productivity in manufacturing.
This is largely because manufacturing has been a traditionally less data-savvy industry, but that's changing rapidly with the advent of the Internet of Things (IoT) and other Industry 4.0 technologies. Competitive plants are embracing these new technologies, but don't always have the technical experience for how to best utilize them.
And that brings us back to KPIs: how to train management to set them up, how to implement them effectively throughout different levels of the organization, and how to lead your frontline workers on the factory floor. Let's dive into the core of these deployment strategies, implementation, and its medium, tiered management systems.
Think you know what KPIs are? Think again.
KPIs are a specific type of metric that are targeted to monitor the performance of manufacturing operation activities to reach specific business goals. The strategic and quantifiable nature of KPIs makes them critically valuable for businesses.
What are KPIs?

KPIs are strategic and quantifiable metrics that directly contribute to larger operational goals.
Defining KPIs can be difficult as the most critical KPIs will be unique to each organization. Bernard Marr, author of Key Performance Indicators for Dummies, describes the following "ICE" approach for getting your metrics organized to help determine which should be deemed "key" performance indicators: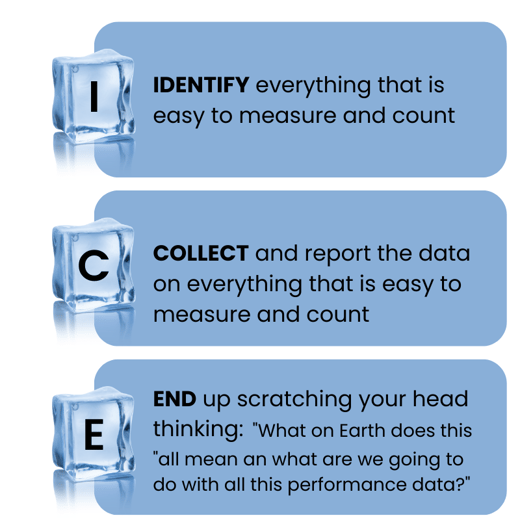 ISO 2240 defines critical KPIs for best managing manufacturing organizations. Some examples of KPI topics in manufacturing include:
When it comes time to formalize your KPIs, make sure they're SMART goals. Remember, successful KPIs are strategic. Everyone wants to improve their bottom line, but without a clear-cut plan that defines by how much, by when, how, and by whom, your gains will be limited, at best.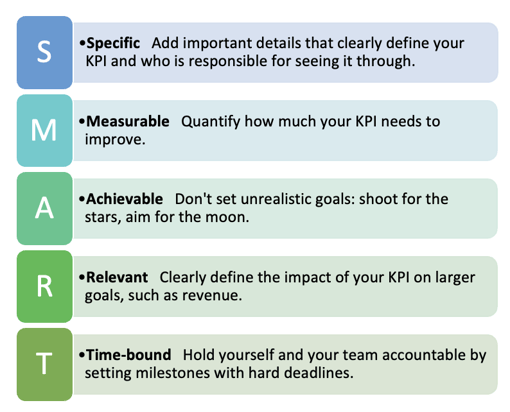 How to Choose the Right KPIs For Your Business.
What do you want first? The good news or the bad news?
The bad news is: you're not getting out of this one without scheduling meetings.
The good news is: we're going to tell you how to set up your meetings so only relevant people have to attend and only for the optimum amount of time for the meeting to be productive, so you don't waste any time with unnecessary minutes. How to improve operational management in manufacturing starts with defining your tiered management system.
Tiered management systems
A tiered management system ensures strategic planning is a top-down process with a bottom-up tactical execution.
What is a tiered management system?

Tiered management systems review, track, trend, and respond to operational performance proactively through a series of meetings at different organizational levels to streamline the decision-making process. They're essential to develop, implement, monitor, and analyze the effectiveness of KPIs.
Let's start by introducing the tiers: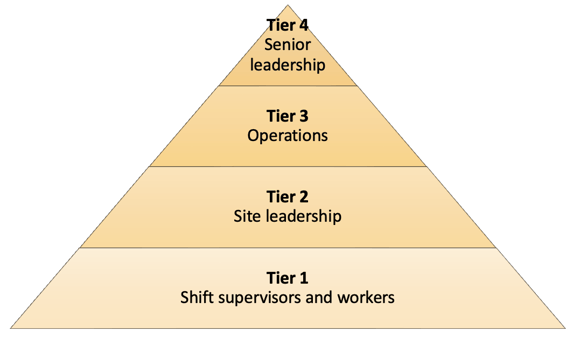 Tier 1 and Tier 2: Day-to-day tasks and problem resolution
Tier 1 and Tier 2 provide guidance for how to improve labor productivity in manufacturing by limiting the time your workforce spends in meetings to only the essentials.
Tier 1 meetings are led by shift supervisors with staff at the beginning of each shift. They should take 5 minutes and focus on urgent tasks that will affect that shift. Topics covered might include items such as production needs, scheduling, manpower, and resources. This may also be where hourly workers bring up issues that they are encountering during their shifts that can be escalated up the tiered system in higher-tier meetings if they cannot be solved in a Tier 1 meeting.
Tier 2 meetings are held in the mornings and only involve the site leadership team. These 30-minute sessions review the previous day's performance and follow up on corrective actions from the day prior. Tier 2 meetings also address problems that could not be solved in a Tier 1 meeting and, if necessary, identify issues that should be escalated to Tier 3 meetings.
Tier 3 and Tier 4: Long-view strategic planning
Significantly, only Tier 1 and Tier 2 meetings happen daily. Tier 3 and Tier 4 meetings happen once a week or less to focus on high-level strategic development and implementation. This means that most days, less than one hour should be spent on meetings.
Tier 3 meetings are strategy sessions held between stakeholders such as operations managers, wave planners, reg Cls, and project leaders. They should only be held once a week for approximately 30 to 60 minutes. These meetings are centered around reviewing large-scale projects, financials, and key initiatives.
Problems that could not be solved in Tier 2 meetings are addressed in Tier 3 meetings through an A3 framework — a systematic problem-solving tool that documents the plan-do-check-act (PDCA) process.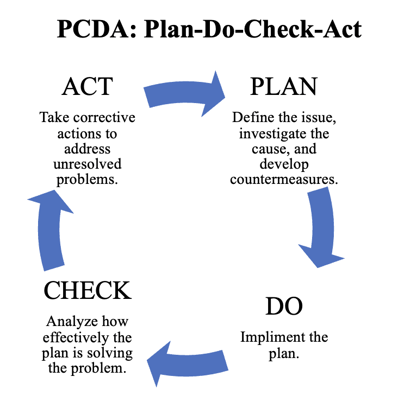 These escalated problems will be officially assigned an owner responsible for leading the development of: clearly defining all aspects of the problem, analyzing the cause, developing countermeasures, implementing a plan for resolution, and performing follow-ups. One useful approach is the 5 Whys, which uses a straightforward questioning process to get to the root of the issue so that a solution can be put into place that addresses the core of the problem. Successful execution of a Tier 3 strategy will resolve issues brought up in lower-Tier meetings.
Tier 4, the last tier, requires 45-to-60-minute meetings held once or twice per month with senior leadership. These meetings focus on the big-picture, i.e., how project statuses, performance, and countermeasures impact the business's annual plan. They'll also set the priorities for the month or quarter based on annual goals and larger company-wide priorities.
Notably, Tier 4 meetings are not for solving day-to-day problems. While day-to-day problems may require leadership to solve, Tier 4 meetings are essential to ensure time is set aside to review the plant's total progress towards major goals on longer timescales.
How To Use Technology To Track and Analyze KPIs.
Industry 4.0 is all about making the most out of the latest technologies to stay competitive in a rapidly evolving landscape. If your company has already begun to implement IoT devices, you're right on track. If you haven't, it's time to start thinking about how your business will be affected when you're competing against forward-looking companies that are optimizing their metrics and achieving their KPIs faster with real data from the factory floor.
Digital plant management empowers leaders with the data they need to minimize waste, boost production gains, and optimize productivity.e the decision-making process.
Previously, we mentioned that OEE is a common KPI topic. OEE tracking software offers leadership a valuable tool to drive measurable improvements in their OEE scores. This technology provides the means for an in-depth analysis of what's happening on the factory floor and gives an overall picture so leadership can determine the pain-points that need to be corrected to drive improvements across one or more KPIs.
Manufacturing isn't historically known for cutting-edge technological prowess, so implementing industry 4.0 projects can be intimidating, both technologically and financially. That's why SafetyChain took a deep dive to explain how to improve operational management in manufacturing with industry 4.0 tools, answer common questions, and prep leadership for the transformation in a detailed blog and corresponding webinar.
Improving Productivity in Manufacturing Starts With Training Leadership.
Properly defined and utilized KPIs can easily increase over 10% throughput in manufacturing assembly lines — more when using IoT to collect better metrics to work from — and a tiered management system is critical to setting organizations up for successful assessments and implementations. Using IoT devices to digitize your plant management processes can help you stay competitive in an increasingly tech-savvy business world while improving manufacturing productivity through better operations management and a more strategically utilized workforce.
Equip leadership with the knowledge to improve productivity by downloading our e-guide to learn more.
---
About the author: TBM is a global operations consulting firm with an emphasis on operations, lean, and supply chain consulting for manufacturers and distributors.