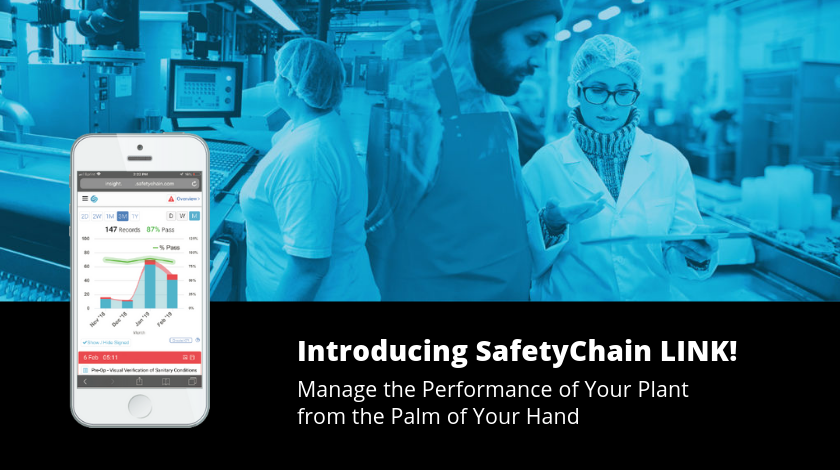 Business Intelligence for Your Food Facility
What if you could oversee the operations of your entire business from the phone in your pocket (or in your hand, right now as you read this)?
What if you could LINK to the real-time performance of your business's food safety, quality and operations with the same ease that athletes track fitness activity through a Fitbit?
What if you could visualize and correct safety, production, and compliance problems before they spin out of control, so you confidently hit your key performance goals. With these advantages, wouldn't you have a better handle on your business and be more secure in your decision-making?
Now you can do all of this and more, with SafetyChain LINK, a new business intelligence tool that puts real-time, operational data into the hands of managers and executives. From compliance pass rates to overall plant operations, LINK delivers all of your critical control point data: consolidated, analyzed, and ready to read. With LINK, you stay informed about what matters most in each location, program (safety, supplier or quality), line, shift, day, month and much more.
---
"LINK puts the real time performance of your plant in the palm of your hand."
---
LINK is the latest tool in the SafetyChain suite of food safety and quality solutions that continues to deliver innovative, value-added features that help its customers manage and grow their businesses. Best of all, LINK is now included as an integral part of the SafetyChain platform and made exclusively for SafetyChain customers.
Interested in taking a tour of this powerful business intelligence tool? Schedule a demo today to learn how LINK can help you better manage your food and beverage business.
About SafetyChain Software
SafetyChain is a Quality Management System (QMS) that helps food and beverage companies improve productivity, profitability, and compliance with a flexible, user-friendly software platform that captures, manages, and analyzes real-time operations data. Learn more at https://safetychain.com.