Blog post courtesy of Jeff Chilton, VP of Professional Services for Alchemy Systems. To learn more about Alchemy's food & beverage learning, communications, and performance solutions, please visit www.alchemysystems.com.
As the Obama administration winds down, it is worthwhile to look back at the administration's food policies and their continuing impact on the food industry. The past eight years have seen a robust regulatory agenda, resulting in thousands of pages of new requirements for the food industry. Food safety initiatives generally receive good bi-partisan support, so the political environment has been ideal to move a broad agenda forward to advance food safety with the goal of safeguarding public health. The new regulations will continue to impact the food industry for years to come with various compliance dates going into effect from 2016 through 2020, depending on the specific rule and the size of the business.
The passage of the FDA's Food Safety Modernization Act (FSMA) was the most significant policy development of the past eight years. This law has been described as the most sweeping reform in food safety regulations in more than 70 years. After five years, from publication of the law to release of the proposed rules, with comment periods and, eventually, publication of the Final Rules in 2015, the time came for the industry to initiate compliance efforts in 2016.
FSMA includes several different regulations, often referred to as the seven pillars: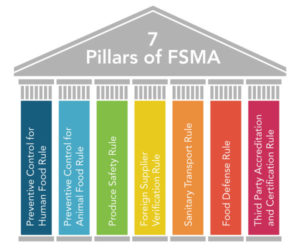 Preventive Control for Human Food Rule
Preventive Control for Animal Food Rule
Produce Safety Rule
Foreign Supplier Verification Rule
Sanitary Transport Rule
Food Defense Rule
Third Party Accreditation and Certification Rule
This avalanche of regulations resulted in a much greater need for training and awareness across the food industry to understand the new requirements and determine how to comply. Over 25,000 individuals took the Preventive Control for Human Food Course in 2016 to become Preventive Control Qualified Individuals and learn how to competently write a Food Safety Plan. An estimated 75,000 additional people will be required to complete this training over the next three years as smaller-sized companies face compliance with the new requirements.
The Preventive Control for Human Food regulations had to be implemented in September 2016 at facilities with more than 500 employees. Facilities with fewer than 500 employees must prepare for implementation in September 2017 or September 2018, depending on size and sales volume. The regulations require implementation of Food Safety Plans with Preventive Controls as needed, revised Good Manufacturing Practice requirements, and Supply Chain Program requirements for manufacturers that depend on their vendors to control food safety hazards.
The Preventive Control for Animal Food Regulation began to take effect with compliance to Good Manufacturing Requirements required in September 2016. The requirement for Food Safety Plans and Supply Chain Programs will become effective between 2017 and 2019, depending on company size and sales volume.
Beyond these first two rules, other compliance deadlines for 2017 include:
Sanitary Transport Rule – April 2017 for large businesses
Foreign Supplier Verification Rule – May 2017 for all businesses
Food Defense Rule – July 2017 for large businesses
Businesses with fewer than 500 employees or annual sales of less than $1,000,000 will have extended dates into 2018 and 2019 to comply with the new regulations.
In addition to these changes related to food safety, in May 2016, FDA also finalized the broadest revision to the Nutrition Facts Panel since the passage of the Nutrition Labeling and Education Act of 1990. The new panel will require added sugars be listed in addition to total sugars. Vitamin D and potassium must also be declared, while vitamin C and vitamin A will be optional on the panel. Compliance will be required beginning in mid-2018. In addition to these requirements, the National Bioengineered Food Disclosure Standard was passed in July 2016. This standard requires that food companies disclose on the package label or with a digital or electronic link when a food or beverage product contains bioengineered ingredients.
These new regulatory requirements are causing a rush in the food industry to move towards "clean labels" to comply and adapt to changing consumer desire for less processed foods. This requires reformulation of products to remove undesirable raw materials and those that make the nutritional panel declaration less appealing. The food industry will make sweeping changes over the next 18 months as research and development departments work overtime to change products in a positive way.
On the meat and poultry side, USDA has also been busy with new regulatory requirements. USDA facilities will continue to comply with traditional HACCP regulations as required since 1997. The Food Safety and Inspection Service (FSIS) has published a strategic plan for the years 2017-2021 that includes three primary goals: prevent foodborne illness, modernize inspection systems, and achieve operational excellence. To meet these goals, FSIS implemented several new regulatory requirements in 2016. USDA began requiring all meat and poultry companies to re-validate their HACCP systems, with compliance deadlines of January or April 2016, depending on plant size. The robust USDA approach to validation required two elements of validation with both scientific supporting documentation for limits associated with critical operating parameters and in-plant validation data to demonstrate the efficacy of the process. The in-plant validation data requires review of production records, microbiological results, and validation of plant-specific processes at each identified critical operational parameter used to control identified hazards.
In addition, USDA is continuing to tighten pathogen performance standards and set new standards for other product types, including poultry parts and comminuted poultry.
Regulatory enforcement should be a key area of concern for food processors. FDA planned to conduct audits in over 300 facilities in 2016 to train FDA investigators on how to assess compliance with FSMA requirements. This will lead to an expanded number of audits to be completed in coming years. FDA will issue warning letters and take regulatory enforcement actions for non-compliance. USDA also has traditional enforcement actions for notice of intended enforcements or notice of suspensions for non-compliance situations.
More concerning, though, is the decision of the agencies to work with the Department of Justice to open criminal investigations at companies that cause foodborne illness outbreaks. This has already occurred at several companies in 2016. Senior management and quality assurance management must recognize this risk and take actions to both assess and mitigate such occurrences at every company.
Again, the Obama administration will leave a legacy of positive changes to improve food safety regulations and protect public health. As these changes are properly implemented over the next several years, the food industry will benefit from fewer recalls, and consumers will benefit from fewer occurrences of foodborne illness outbreaks. This should result in a rare win-win situation in which government and industry work together to help the public and reduce risks in the industry.