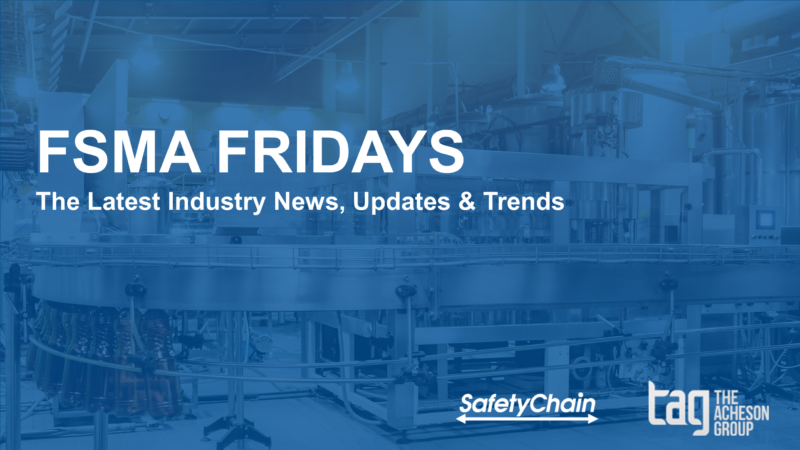 For our March 2018 session, Cameron Prince, Senior Food Safety Director with The Acheson Group and Brian Sharp, VP Marketing at SafetyChain discussed how GFSI schemes, IFS, BRC, SQF and FSSC measure up against FSMA Human Food Rule.
Although there are key differences between Global Food Safety Initiative (GFSI) schemes and the FDA's Food Safety Modernization Act (FSMA), they share many of the same food safety outcomes. Many companies are certified in a GFSI scheme and fall under FSMA and are therefore seeking ways to mutually support both through their food safety programs. Here, we look at how GFSI schemes measure up against the FSMA Human Food Rule.
GFSI Schemes Today
GFSI is global and voluntary, whereas FSMA is a U.S.-based regulation. However, because FSMA has had a global impact, the changes recently made in GFSI's newest version (7.1) were largely driven by FSMA.
Here is how each of the most common schemes have been updated to support the newest GFSI benchmarks:
IFS: While it is more common in Europe than North America, some U.S.-based companies are IFS certified. The newest version (6.1) of this scheme added a section on food fraud and is focused on driving food safety outcomes similar to those supported by FSMA.

BRC: Unlike other GFSI schemes, BRC keeps its standards in place for longer periods of time, so each new version has numerous changes. Version 7 has been in place since January of 2015, but Version 8 is anticipated to be released some time in 2018 with added sections on food fraud and food defense. BRC added a separate FSMA module in 2017 and required all of its auditors to complete PCQI training, so it is one of the more aggressive schemes in terms of aligning with FSMA requirements.

SQF: The most common GFSI scheme in North America, SQF released Version 8 in January of 2018. It features an optional quality element, but its safety portions are very similar to FSMA. SQF also strengthened its food fraud, defense, and some supply chain requirements.

FSSC: As an ISO standard, FSSC is inherently a bit different from the other schemes listed here. Version 4.1 was released in July 2017 and incorporated some changes recommended following a European Food Safety Authority audit. Like the other schemes, FSSC has similar food safety outcomes to FSMA's.
GFSI/FSMA Comparison
While the outcomes of GFSI schemes and FSMA are quite similar, the process by which outcomes are achieved is where the two tend to differ. Here are some key differences:
The FSMA concept of Preventive Controls (PCs) is not fully mirrored in GFSI scheme standards. Schemes are Codex HACCP-based and there are no PC requirements on allergens, sanitation, or the supply chain.

While GFSI does not require PCQI as FSMA does, they do require qualified food safety professionals.

FSMA corrective action documentation is more detailed and thorough.

GFSI schemes typically are more detailed in terms of training, recall, traceability, and management commitments.

All GFSI schemes have allergen program requirements in place and require validation, but FSMA does not require validation of allergen controls. With that said, FSMA does require PCs for allergens.

FSMA is regulatory, so many record producing requirements are mandatory by law.

Environmental monitoring requirements are more rigorous under FSMA's guidance documents than in GFSI schemes.
Missed the session? Click here to access the recording.
Click here for the presentation deck on SlideShare.
SafetyChain is a Quality Management System (QMS) that helps food and beverage companies improve productivity, profitability, and compliance with a flexible, user-friendly software platform that captures, manages, and analyzes real-time operations data. Learn more at https://safetychain.com.