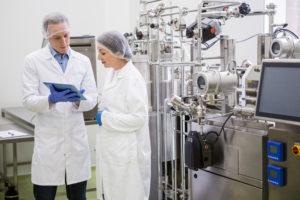 The Final Rule for Preventive Controls for Human Food is one of the main doctrines of the FDA's Food Safety Modernization Act (FSMA). It applies to any facility that manufactures, processes, packs, or holds human food. In an effort to help you become as audit-ready as possible, we'll take a look into preventive controls compliance here.
Step 1: Know Your Hazards
Before you can preventively control the hazards within your facility, you must first identify them. The FDA states that known or reasonably foreseeable hazards must be identified. In addition to biological, chemical, and physical hazards, the identification should also encompass hazards that could intentionally be introduced for economic gain.
After hazards have been identified, there must then be an assessment completed through which companies determine the severity of impact if the hazard were to occur in the absence of preventive controls. This enables companies to pinpoint their highest risks and take action accordingly.
Step 2: Develop Preventive Controls
This is the phase during which companies must develop plans to preventively control the hazards identified in step one. After the plans have been developed and the preventive controls are in place, the company should also perform continuous monitoring, corrective actions, and verification activities to ensure each hazard is being minimized effectively.
Step 3: Create a Supply Chain Program
You should also have a supply chain program in place to address any hazards in the materials and ingredients you receive. There are three options for controlling the hazards; it can be done at your facility, the supplier's facility, or at your customer's facility. If it has been determined that the customer will control the hazard, the FDA may require written documentation for verification.
Step 4: Generate a Recall Plan
Finally, in order to satisfy the Preventive Controls Rule, your food safety plan must also encompass a recall plan. This will outline roles, responsibilities, and courses of action to be taken in the event of a violative food product being distributed.
About SafetyChain Software
SafetyChain is a Quality Management System (QMS) that helps food and beverage companies improve productivity, profitability, and compliance with a flexible, user-friendly software platform that captures, manages, and analyzes real-time operations data. Learn more at https://safetychain.com.