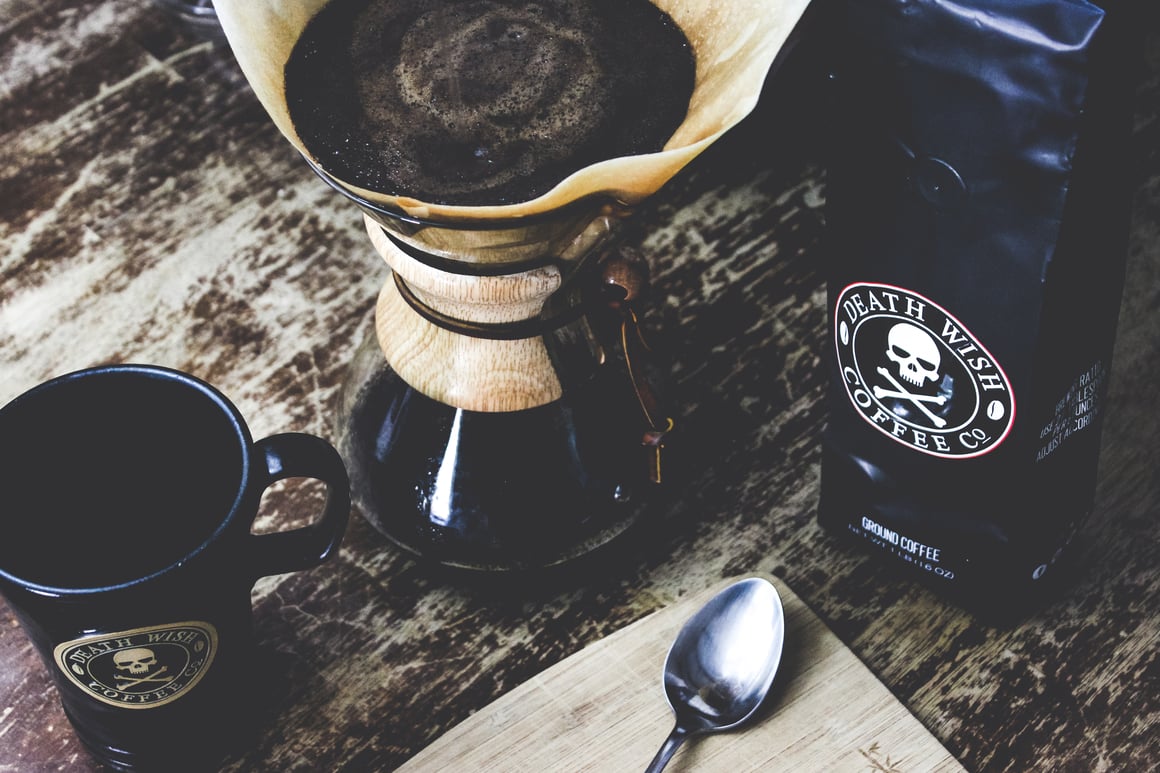 Photo © 2019 Death Wish Coffee
The process of migrating from paper-based record keeping to data capture on tablets and electronic information storage does not have to be difficult for food and beverage companies. Here's a story about a coffee manufacturer that showed us all how it's done, and, in the process, put up some very impressive audit scores.
Background
Death Wish Coffee started off as a small, paper-based company in the Northeast that ran into a roadblock when trying to get into big-box retailers such as Walmart and Costco that have complex SQF requirements. Here, we will take a close look at how Death Wish Coffee exploded into the specialty retailer it is today. If this article leaves you wanting more, then download our full case study to get the full details on Death Wish's success.
Death Wish Needed FSQA Software That Would Support Their Growth
Death Wish Coffee faced a problem that all food and beverage manufacturers would welcome: explosive growth. CJ De Luca, the Quality Assurance Manager at Death Wish, recognized a need for improving safety and quality, and needed a way to manage the pile of paperwork that was only continuing to grow. Although many small-company executives might hesitate when faced with the option of making a major technology investment, De Luca knew that the cost would be dwarfed by future benefits. The company recognized that a key factor in ensuring continued growth was to reduce the amount of manual paper processing they do, with the end goal of centralizing document storage and streamlining audits.
De Luca was also driven by his commitment to uphold the highest food safety standards possible. Prior to making the switch to SafetyChain, their team had little experience with the more demanding food safety and quality assurance (FSQA) regulations that were keeping them from expanding and growing. Before implementing SafetyChain, Death Wish found that paper-based safety documentation was clumsy and time-consuming. Paper and clipboards were permanently stunting their growth.
A Change in Software and Culture Brought an Unexpected Benefit: Accountability
De Luca knew that implementing a new food safety, quality, and compliance solution – even one as easy-to-use as SafetyChain – would require a shift in the company's culture. Because record keeping was known in the company to be a tedious process, De Luca knew he could generate excitement among his staff by using devices like tablets and smartphones that his staff used in their everyday lives. He also knew that SafetyChain's convenient and precise reports would encourage operators to take ownership of their process and help pinpoint the source of any issues that may arise. This unanticipated increase in accountability was a welcome side benefit of implementing new FSQA software.
What Challenges Did Death Wish Coffee Face as They Considered "Going Digital?"
Like any company, Death Wish Coffee had to consider internal factors and limitations before pursuing a technology project. Here are just a few:
Budget and financial considerations: When looking at competing budget demands for machinery and other operating costs, Death Wish recognized that the switch to technology would have to make a compelling business case. After exploring a few ways SafetyChain could help them improve, it was easy for them to see the value and ROI in technology. Without SafetyChain, losing SQF certification could have serious implications, including ultimately restricting access to key retailers, which would lead to revenue loss and potential loss of jobs.
Convincing upper management: One of the most compelling arguments in favor of technology was that most employees were already comfortable using screens, so it made sense to transition their food safety activities to phones and tablets. This would allow operators to have tasks laid out right in front of them and give managers visibility into profitability and instant access to stats and trends.
Multiple facilities: Because Death Wish is spread across multiple facilities, the information between these locations was often disconnected. They could manage operations more effectively with the information generated by a single source of real-time data.
Cultural change: Any new technology requires a cultural shift. But De Luca, being the excellent leader that he is, approached this change as a challenge and an opportunity to create a more engaged culture.
How Did Death Wish Coffee Successfully Implement FSQA Software and Go Digital in Such a Short Time?
Download our customer case study to learn how Death Wish went digital and solved its SQF challenges in such a short time.
How Has Death Wish Benefited Since Their SafetyChain Implementation?
Since Death Wish Coffee went paperless with SafetyChain, they've been able to eliminate guesswork. Now, "the data tells the story." With a compliance rate in the high nineties, their company is performing better than ever, and they'll continue to leverage real-time data to pursue ongoing improvement. Some of the benefits created by SafetyChain are:
Time savings
Accurate record keeping
Ability to perform corrective actions
Accountability for operators
Ability to get into larger retailers
Ultimately, Death Wish Coffee was able to improve their productivity, ensure SQF compliance, and boost their profitability with the help of the SafetyChain platform. While the implementation of any new technology requires some careful consideration and planning, it is a worthwhile endeavor for every company. Death Wish Coffee stands out as a prime example of a company that made the right software decision and thoughtfully implemented it in a way which would ultimately drive their growth and offer many unexpected benefits.