Not so sure if you're as ready as you should be? Bogged down by mountains of paper? Technology can help! If you'd like to learn more about how automation can help you be audit-ready on-demand for your next regulatory, GFSI, internal or customer food safety audit, then I invite you to download our new whitepaper.
If you are like most of the food safety and quality assurance folks I speak to, you might be losing sleep at night worrying about your next audit, wondering if your …
… PRPs, SOPs, GMPs, CCPs, etc., are current and being followed to a "t"
… Approved vendor program records are in order
… Records can verify proof of CAPAs
… FSQA documentation is accurate, accessible and audit-ready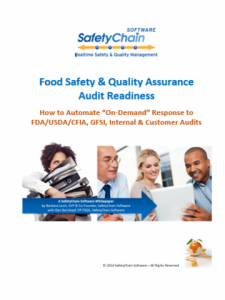 But there is a be tter way. This paper, co-authored with SafetyChain's VP of FSQA Applications, Dan Bernkopf, a 35-year food industry veteran who has been involved with 100s of audits, can help you understand how to leverage a Food Safety Chain Management System (FSCMS) to better manage all of your food safety and quality programs; regulatory, GFSI and customer compliance; and most important, how to ensure that everything is documented and easily accessed for on-demand audit response! The paper, entitled "Food Safety & Quality Assurance Audit Readiness: How to Automate On-Demand Response to USDA, GFSI, Customer and Internal Audits," is complimentary, and provides insight into:
Unique requirements of each type of audit – regulatory, GFSI, internal and customer audits
The four most common audit challenges and how automation helps overcome them
How Food Safety Chain Management technology helps you be audit ready on-demand
And how companies like yours are turning data "silos" into actionable data for continuous improvement
Access the complimentary paper today by clicking here.