In the fast-paced and ever-changing global supply chain, operational agility and efficiency have become crucial for manufacturers to survive and grow. Lean manufacturing, a practice that aims to eliminate waste and any activities of non-value, has become an essential tool for organizations looking to improve their operations. However, Lean is not just a methodology, it is a philosophy that requires a mindset shift across the entire organization to drive continuous improvement.
A Lean Expert's Perspective
Lean philosophy emphasizes a mile-wide, inch-deep approach to operations. According to Six Sigma Master Black Belt, Michael Parent, sound lean practices rely on visual management – an architecture of visual control points to help make a decision on how to better manage production.
An example of visual management in our daily lives can be represented through the use of a highlighter. When you were in school, you likely used a highlighter when studying a text because it was a lot easier to come back to the words you already knew were important than having to reread the text. Highlighting was a form of visual management because it gave you reference points to better manage your productivity.
In manufacturing, visual management takes the form of standards set across the organization, as they help differentiate what's important and what's not. Standards emphasize mile-wide, inch-deep.
A Common Lean Manufacturing Mistake
Lean manufacturing practices typically fall into two buckets:
Smooth operation: consistent improvement across an organization through standards and small incremental steps

Stepwise impact: lean projects that are more acute and target specific areas (like Kaizen blitzes).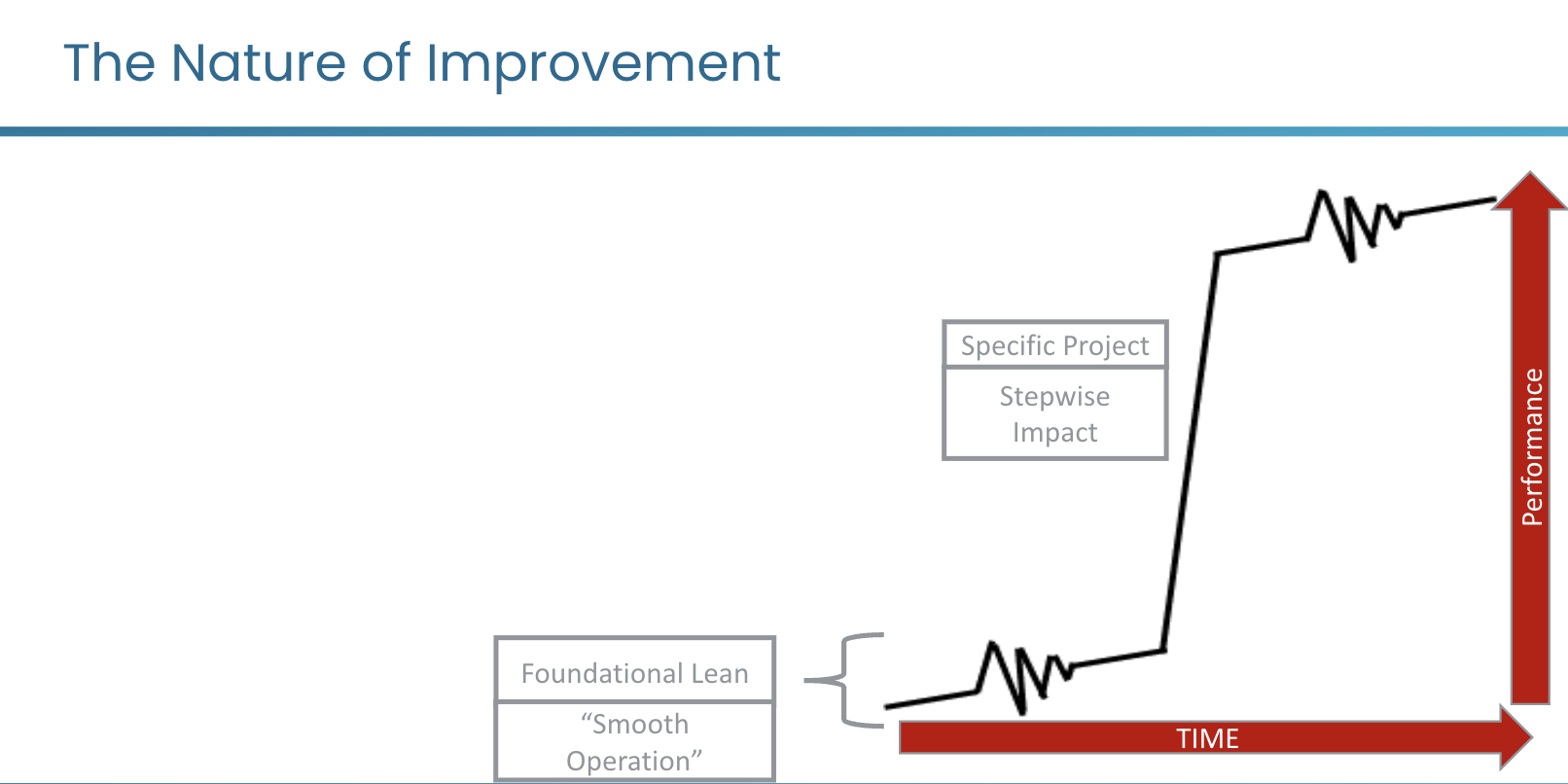 Manufacturers like to think of operational improvement as stepwise impacts. However, without doing the smaller incremental steps and standards, the larger projects don't have the staying power and won't continue to perform. Lean manufacturing practices will fail without an environment established on seemingly smaller control points across an organization.
Lean Practices Support A Plant's Bottom Line.
It can be difficult to face the fact your business may not have good standards. But eliminating waste to reduce cost and increase capacity relies on both the small standards and larger projects that make up the lean philosophy.
Outcomes of a lean manufacturing philosophy:
Reduce waste: identify and eliminate areas of waste in operations to improve efficiency, lower costs, and increase profitability.
Improve quality: focus on continuous improvement that not only increases OEE, but produces better quality products, as well as fewer defects and lower rates of customer complaints.
Increase productivity: streamline operational processes and eliminate waste to meet production targets and deadlines, as well as reduce lead times and cycle times.
Enhance safety: reduce the risk of accidents and injuries in the workplace while maintaining efficient lines.
Engage employees: encourage employee involvement and engagement in the improvement process. By involving employees in lean initiatives, plant management can increase employee morale and motivation, as well as improve overall job satisfaction.
While many organizations practice some aspects of lean manufacturing, truly becoming Lean requires significant shifts in attitudes, beliefs, objectives, and KPIs. However, with the right guidance and examples, plant management can start improving their Lean manufacturing practices without straining existing resources.
Parent provides critical insights and guidance on how to address the most commonly missed Lean manufacturing pillars, and seven key takeaways that organizations can implement immediately in his brief presentation: Fixing the Foundations of Your Lean House in an Uncertain Economy.