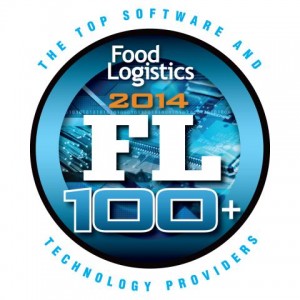 SafetyChain is very excited to announce that we've been awarded a coveted spot on the Food Logistics Top 100 list. Food Logistics, the only publication dedicated exclusively to the global food and beverage supply chain, announced the eleventh annual FL100+ list this week. The list profiles software and technology providers that hold influential roles in the global food and beverage supply chain.
SafetyChain is proud to be selected as one of the companies that holds an influential role in the global food and beverage technology industry. By introducing the concept of Food Safety Chain Management to the industry – designed to manage food safety and quality assurance (FSQA) along a company's entire supply chain – we've provided food and beverage companies with a single, dedicated platform to automate, streamline and improve all major components of FSQA. We're seeing rapidly growing adoption of our Food Safety Chain Management solutions and are very pleased to be recognized by our inclusion on the FL100+ list.
SafetyChain offers solutions for food industry supplier compliance, FSQA document management, HACCP/HARPC management, customer quality specification management, GFSI and regulatory compliance – including FSMA, FSQA audit management/readiness and mobile FSQA applications.
At SafetyChain, we believe that several key differentiators contributed to being included on the FL100+ list. These include our focus on prevention vs. reaction to food non-conformances; our hard-dollar Return on Investment that most customers realize within one year of implementation; the fact that we provide a broad range of FSQA functionality in a single, cloud-based solution; and our ability to create actionable FSQA data for audit readiness and continuous improvement – to name just a few.
We'd like to thank Food Logistics for including us on this prestigious list. Investments made in food safety and quality technologies are really investments in the protection of a company's market value and brand, and we appreciate Food Logistics' efforts in educating the industry about emerging technology innovations.