SafetyChain is proud to participate in SQF Info Days, great one-day regional events where area companies learn more about GFSI/SQF, hear about latest trends in the industry, gain insight into how to improve operations, and more. SafetyChain's K.C. White, National Account Manager, attended the event in Fresno, CA last week where he gave a presentation on How Technology Helps Ensure Everyday Program Compliance. Great information was shared—here's a recap!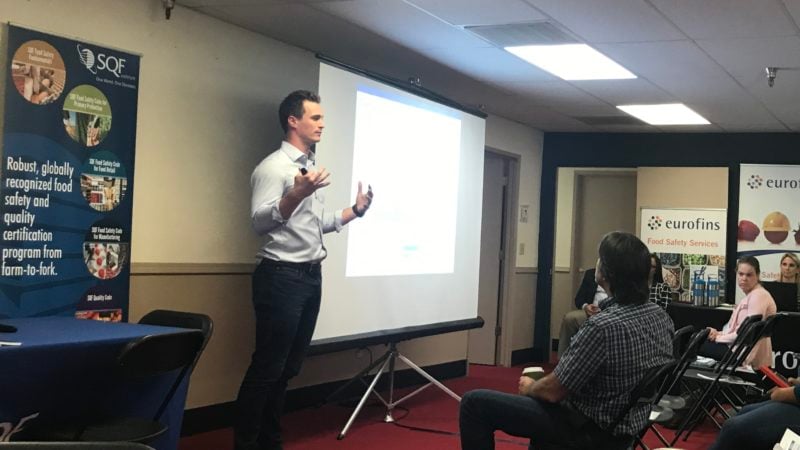 SQF and the Future of Food Safety
The morning session was facilitated by Bob Garfield, Senior VP, and LeAnn Chuboff, Technical Director at Safe Quality Food Institute. In their opening remarks, Bob and LeeAnn talked about current state of FDA and FSMA compliance and audit readiness. They indicated that within organizations, unannounced audits have driven more engagement at the management level. Going forward, it is anticipated that FDA will focus less on organizations that are SQF certified, since they know those organizations are doing the right things. The presenters invited attendees to find SQF version 8 on the SQFI website, which includes a guide/checklist for FSMA readiness.
Bob and LeeAnn provided some historical perspective on GFSI and it's purpose to drive global changes with key initiatives on auditor competency, food fraud, and regulatory affairs with a universal, auditioned approach to food safety. GFSI takes a collaborative approach from input from every stakeholder through the supply chain, with 20 industry categories, each with specific requirements. There are 30 different SQF food sector categories, and as an SQF practitioner, you'll be audited by auditors with history specific to your category who are knowledgeable and who specialize in that sector.
Where Do I Start With SQF Implementation?
LeAnn suggests that companies start recording numbers on metrics such as employee turnover, waste, and customer complaints. Measuring these factors will give you an idea of how improving these programs will affect cost and create ROI.
The presenters outlined the following steps toward gaining certification:
Register your company
Gain management commitment
Learn about the standards, attend courses, webinars, and conferences
Designate an in-house SQF practitioner as the go-to expert for your organization
Start talking with certification bodies to determine what it will cost to gain certification
Conduct a pre-assessment audit to identify gaps
Have a certification body do the initial certification audit
The SQF Quality code, formerly Level 3, has been separated out from the SQF Food Safety code so a company can be audited/certified in QA without putting their food safety certification at risk. The aim of certification is to increase product consistency.
Why GFSI?
The goal of GFSI certification is to address food safety integrity by addressing issues and presenting solutions. Does GFSI really reduce recalls? According to Bob and LeeAnn, the answer is Yes, and it increases the confidence of retailers when doing business with any supplier. Some interesting statistics around certification:
70% of all US-based certifications are for manufacturing companies
Bakeries are the highest SQF certified companies
The 5 leading reasons for recalls and withdrawals are (1) mislabeling, (2) poorly executed environmental monitoring, (3) contaminated product from suppliers, (4) quality specifications not being met, and (5) foreign objects
Other topics covered by Bob, LeeAnn, and guest presenters at this event included SQF Food Quality certification, preparing for a successful audit, food fraud, and FSMA compliance. SafetyChain is always thrilled to participate in industry events as it provides a great opportunity to connect and learn from our customers, partners, and thought leaders in food safety and quality. We were excited to share information on our recent release of SafetyChain Analytics with Info Day participants. We look forward to more opportunities to engage with food companies at events like SQF Info Day and share how SafetyChain solutions are helping organizations tackle their biggest food safety and quality challenges every day.