Blog post courtesy of Dan Bernkopf, VP FSQA Applications, SafetyChain Software.
It's great to see a GFSI scheme go beyond food safety compliance and beyond the goal of continuous improvement by prescribing to a science-based product quality process that includes SPC and control charts. Why is this 'interesting'?
GFSI schemes historically are very specific about food safety data. Usually, a data record is either compliant or non-compliant with a workflow process that seeks to correct any and all non-compliances
By mandating the use of SPC and Control Charts, SQF, in its new code recognizes that quality data is far more important than just being compliant or non-compliant—SQF is saying to food companies that they "shall" leverage their data for improved operational performance
SPC and Control Charts do just that—provide real time data analysis and business intelligence to help reduce product and process variability, waste, and rework while improving performance
At SafetyChain Software, we're strong believers that the only way to truly improve your operations is to better utilize data beyond just meeting compliance. Our food safety and quality management solutions enable our customers to get real-time business intelligence from the data they are collecting every day. Intelligence that drives better everyday business decisions and promotes overall better operational performance.
When first seeing the new SQF Quality Code and the required SPC and Control Charts, I said to myself, "Now that's new and improved." It's a recognition that compliance-only systems are not enough to promote best practices in the food industry. I get this, after having run a plant for over two decades on paper. I only wish that SPC and statistical tools coupled with today's user-friendly technology were available back when I was in the plant.
The SQF Quality Code stands alone on its own merits as is also now true for SQF's food safety certification programs. Though take note, SQF does require one of their food safety certificates before seeking Quality Code certification. SQF does differentiate itself among other GFSI schemes as it combines options for Food Safety as well as Quality/Operational Performance Excellence in its broadening certification services.
The new SQF Quality Code will attract formerly-certified SQF level 3 plants as well as the many, many other food companies that aspire to achieving SQF's new Quality Code. For those familiarizing themselves with SQF and/or the new edition—the following chart from the SQF site does a good job of providing a high-level overview.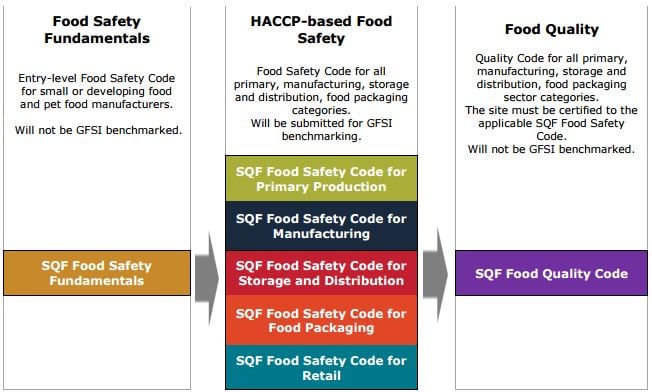 Haven't had a chance to peruse SQF edition 8? Here is the link to the code on their website.
And for those up to the challenge—or just looking for better ways to achieve stronger operational performance—shoot me an email, I would love to talk.
Dan Bernkopf VP, FSQA Applications, SafetyChain Software, has more than 30 years of experience developing and implementing food safety and quality programs throughout the food industry.