The majority of process, discrete and repetitive manufacturers have between 100 and 500 suppliers, according to a recent poll by SafetyChain. Managing hundreds of vendors is an enormous undertaking, but the quality and safety of your product depend on your company's ability to do it well. If you're using paper, spreadsheets, or siloed point solutions to manage your suppliers, there's simply no way you're able to proactively track their performance and address issues promptly.
Fortunately, SafetyChain's Supplier Manager solution provides a cloud-based, centralized solution that makes supplier compliance faster, easier, and more effective. Below, we'll take you through the core steps of effective supplier management and how you can achieve each with SafetyChain.
A Guide to Getting the Most from SafetyChain's Supplier Manager
Step 1: Extend Supplier Network Visibility
The best relationship with your suppliers is built treating them as if they're an extension of your own company. In a way, this is true—if their product fails and is built into yours, your brand could suffer. For this reason, it's essential to extend your supplier network visibility through:
Audits
Certifications from credible third parties
Receiving gates that capture information and prevent bad products from entering
Shared visibility and integration
Vendor performance tracking
If you can't see how your vendors are doing, you won't know whether they need to improve. SafetyChain extends your visibility with the Supplier Status At-A-Glance feature. This comprehensive dashboard organizes suppliers into a single comprehensive display to show the buyer all of their suppliers' requirements, and show the suppliers' statuses such as late, expired, or pending. Filing cabinets and spreadsheets simply won't provide you with a complete picture of your suppliers, which means there's always a risk that something is going overlooked when you're managing suppliers with paper-based processes.
Step 2: Rating & Scorecarding Your Suppliers
To get a holistic understanding of how your suppliers are performing, you must first start with some preliminary questions:
How do you know if your suppliers are good business partners?
How many ways do you score your suppliers?
Do you have formal criteria to rate your suppliers?
Eablishing criteria and scoring methods may take time and consideration, but it's important for keeping tabs on how suppliers are performing. For instance, you might look at factors such as on-time shipments and whether or not orders are overfilled. The majority of companies polled by SafetyChain (86%) have an approved supplier program. You can build your own program with the following steps:
Define your criteria for approving and maintaining approved status.
Communicate your expectations and criteria to your suppliers.
Outline your scoring criteria and methods.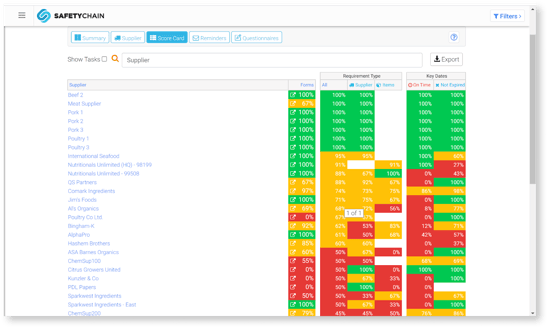 Once you've established these criteria, build them into your supplier contracts and purchase orders so vendors know exactly what's expected of them. Build them into your SOPs, too!
Ideally, you shouldn't be waiting until you have a problem with a supplier to address an issue with them. Instead, you should be actively tracking their performance so you can identify and discuss challenges earlier. Again, however, you need visibility into their performance to have these conversations.
SafetyChain supports supplier ratings with convenient supplier scorecards. You can use colors or letter grades to rank suppliers. When you notice that performance starts to trend downwards, use your supplier scorecards to have informed, data-driven discussions about what's changed and what can be done to fix it.
This doesn't mean suppliers should only hear from you when they've made a mistake, however. Some companies choose to check in with their biggest suppliers at quarterly or six-month intervals, for instance. This brings us to our next point—automating communication with your suppliers.
Check out this short video to see how you can use SafetyChain to ensure supplier compliance and scorecard suppliers.
Step 3: Automate Reminders & Improve Supplier Communications
Your ability to communicate with your suppliers can strengthen your partnership with them. Yet, keeping the lines of communication open is challenging when you're managing a large supplier base. If you have 500 suppliers and each provides your company with 10 items, you're looking at 5,000 components to manage. The magnitude of this risk is considerable, but better visibility and transparency applied at both ends can help.
For an example of what reminders look like in SafetyChain, see image below.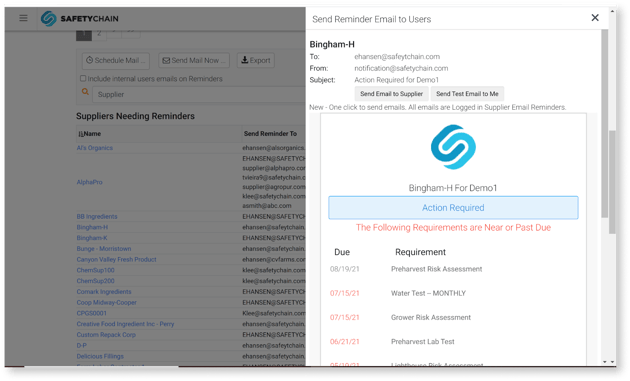 As your business grows and your supplier network expands, it's important to add layers efficiently. If you see your purchasing department becoming overwhelmed with quotes, purchase orders, or other tasks, it's time to create and execute a plan. Instead of manually reaching out to dozens or even hundreds of suppliers, a better way is to automate communication. SafetyChain has automated tools that can collect and analyze data, and send alerts if any tasks are due. For instance, you could set up a reminder to be sent out to suppliers on the first day of each month to list any requirements they owe or will be due within the next 30 days. You can also find a convenient view of tasks and their due dates in the Supplier Portal Inbox.
Step 4: Build Supplier Risk Models
Another important component in your supplier management program is building models to determine which suppliers present the greatest risk. Start by defining your risk criteria based on factors such as criticality or impact, frequency or likelihood, and types of risks. For instance, a supplier who provides paper supplies for your business likely presents far less of a risk than one who provides critical ingredients for your most in-demand products.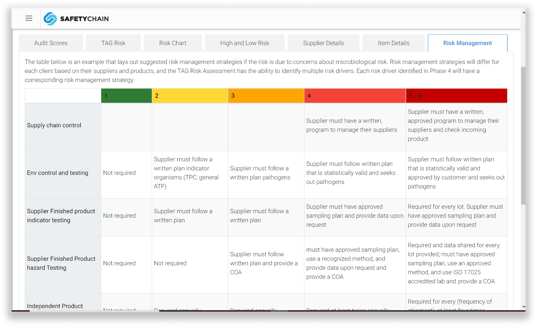 Your scoring system can be simple: you might consider using high, medium, and low scores, for example. On the other hand, a more complex system with weighted scores might better suit your needs. Whichever you choose, you should have backup plans for failures, and set thresholds, triggers, and alerts to keep a close watch over risk factors.
Once you have your risk criteria, it's time to apply it. Identify and rank the components of your products, as well as the suppliers of those components. Sort the results, and place your focus where it's needed most. For example, overseas suppliers tend to carry bigger risks, because challenges can arise in customs. Moreover, the further a supplier is geographically, the greater the risk is for transportation challenges.
SafetyChain allows you to track suppliers by risk with easy-to-navigate dashboards that rank suppliers from highest to lowest risk in visual graphs. You can look at risk from an audit perspective, regulatory factors, transportation, or other factors. Watch this short video to see how:
In Conclusion
Supplier management is an extensive undertaking, especially when you consider that most plants have hundreds of vendors to oversee. Because your suppliers' performance can ultimately influence your production schedule, quality, and overall operations, it must be managed effectively. Attempting to track performance, audits, certificates, risk, and communication through emails, spreadsheets, and binders sets your staff up to become overwhelmed and make errors. With the right supplier management tool, your teams gain complete supplier visibility and oversight, and a tremendous amount of time can be saved by automating tasks.
SafetyChain supports comprehensive supplier management with tools for extending supplier network visibility, rating and scorecarding, automating reminders and communication, and building risk models. To find out more about how Supplier Manager can enhance your supplier management program, see the solution's full list of key features here.