Your food safety practices are top-notch, but what about your suppliers? Evaluating your entire agriculture food supply chain from farmer to consumer is critical for any food manufacturing company, particularly for those that utilize raw agricultural commodities (RACs). In this blog, we discuss how manufacturers can evaluate risk in their agriculture food supply chain from farmer to consumer.
Due to the lack of a kill step, RACs have different risk profiles influenced by the commodity itself and its growing, harvesting, and packing conditions — and it's up to manufacturers to ensure their ingredients are safe for public consumption before processing.
In our recent webinar, Strengthening Your Supply Chain Program: Insights for RAC Producers & Food Manufacturers, Dr. Angela Ferelli Gruber, Food Safety Manager at The Acheson Group (TAG), teaches manufacturers using RACs how to evaluate the risk profile throughout their supply chain.
This blog provides an overview of what warning signs to look out for, how to spot them, and what to do once you've identified issues in your agriculture food supply chain.
Topics include:
Hazards on the Farm
Producers are subject to different risks and potential food safety violations compared to the common food safety violations for manufacturers.
The major risks suppliers have on the farm include the following:
Preventative measure: water quality management
How water is managed can significantly impact risk. Generally, municipal water sources are thought to be less risky than surface water. However, there are variables that can impact the safety of recirculated municipal or well water. A supplier with a documented water quality management system that describes irrigation techniques and what tests are conducted can help farms stay on top of this risk.
Preventative measure: safe compost and manure use
Synthetic fertilizers generally pose less risk than fertilizers of animal origin, particularly untreated fertilizers. Your supplier should notify you if they are making any major changes, but it doesn't hurt to verify this in an annual check-in.
Preventative measure: sanitation program
This applies to the sanitation and housekeeping of tools both in the field and after harvesting. There should be a documented sanitation program that details routine procedures and records that they've been completed.
Preventative measure: land risk assessments, wildlife monitoring, pest management
Even if your supplier doesn't have animals, neighbors with shared or adjacent roads can impact crops. What barriers are currently in place to keep animals out, and what corrective plans does your supplier have in place if animals cross into raw crop territory?
Rank Your Risk
Annually quantify the level of risk in your agriculture food supply chain from farmer to consumer. Verification activities to help you answer the above questions can include conducting an annual audit (particularly if your team has the time, resources, and appropriate certification to conduct the audit, otherwise an accredited third-party audit), reviewing relevant food safety records (such as copies of training, water tests, or harvest risk assessments), or COA testing.
The charts below can help you measure your level of risk in producing a particular product with a particular firm. A high-risk score will require the most drastic measures, such as an on-site evaluation. However, a low-risk situation in your agriculture food supply chain may simply require a desktop evaluation of a third-party audit.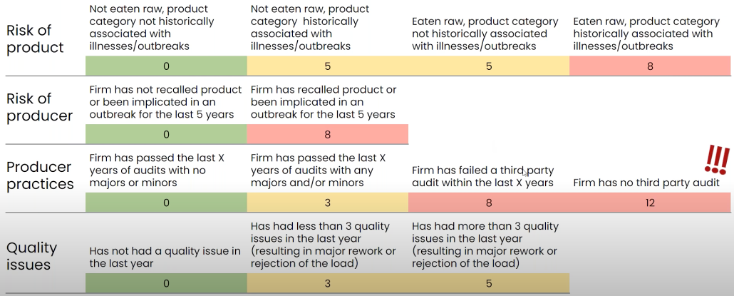 Does your product have inherent risk?
There are two major determinants of the risk of your product: whether it's consumed raw, and whether it has historical associations with foodborne illnesses or outbreaks. Products that are consumed raw and have a history of associations with foodborne illnesses or outbreaks are high risk, and on the low-risk end of the spectrum are foods that are not eaten raw and have no historical associations with foodborne illnesses or outbreaks.
Does your producer have a recent association with product recalls or outbreaks?
Producer risk can most easily be assessed through evaluating product recalls and audit histories. If the firm has not had a product recall or been implicated in an outbreak within the last five years, the producer is considered low risk. Producers that have a history of recalls or outbreak associations within the last five years should be considered high-risk.
What is your producer's audit history?
Notably, 3rd party audits are not required by the FDA, even for producers who are supplying raw products. Manufacturers significantly limit their risk when working with producers who choose to conduct — and pass — third-party audits. A producer that has passed third-party audits without majors or minors within a given time period, is considered to have low-risk practices. On the high-risk end of the spectrum is a firm that does not conduct a third-party audit, particularly if the firm has also had a recall or been associated with an outbreak within the last five years. You can review your supplier's 3rd party audit to ensure that there are plans in place for flooding, tornadoes, and other environmental concerns.
Have you had quality issues with your producer?
Consider both your recent and overall history with your producer. Positive, long-term business relationships are valuable for any company, but if you've had recent quality issues particularly within the last year, you should assess what has changed and whether sufficient corrective approaches are being implemented.
Additional Resources to Help You Evaluate Your Suppliers
You may not have heard of the Italian researcher Vilfredo Pareto, but perhaps you're familiar with a theory based on his work: the 80/20 rule.
U.S. government regulatory bodies have several helpful resources for staying on top of safety risks in the agriculture food supply chain from farmer to consumer:
FDA Firm/Supplier Evaluation Resources
Provides additional resources to help manufacturers evaluate their agriculture food supply chain, such as warning letters, import alerts, import refusals, inspection classifications, and more.
FDA Recalls, Market Withdrawals, & Safety Alerts
Provides a list of recalls for FDA-regulated products that can be filtered by product type and exported. There is even an option to sign up for email alerts for new recalls and other safety alerts.
FDA Investigations of Foodborne Illness Outbreaks
Provides a list of active and closed investigations with hyperlinks to learn more about the status of the investigations.
CDC National Outbreak Reporting System (NORS)
The National Outbreak Reporting System (NORS) provides both visual and tabular data regarding outbreaks that have been reported to NORS that the CDC has reviewed.
To hear more about risk evaluation in your agricultural supply chain, check out the full webinar recording and sign up for future FSMA educational webinars!
---
About the author: Dr. Angela Ferelli Gruber is an experienced food safety educator and microbiologist, certified in FSMA PSA Produce Safety Rule, Preventive Controls, and Food Defense. Her expertise spans hazard identification, compliance, and risk mitigation for various produce operations. She's dedicated to helping food producers thrive through regulatory compliance and safety practices.