In this blog, we discuss the purpose of a food safety management system and how a combined food safety and quality management system can support production goals.
Trends Shaping Compliance in Manufacturing
Quality assurance and food safety professionals are no strangers to quality and safety controls. Yet, the best strategies for integrating two key systems — Quality Management Systems (QMS) and Food Safety Management Systems (FSMS) — can often elude even seasoned professionals.
In our recent webinar, From QMS to FSMS: Intersecting Compliance, Audit-Readiness, and Production, Ranjeet Klair, Food Safety Director at TAG, discusses the history and evolution of QMS and FSMS. She also describes the composition of a successful FSMS to align quality and food safety, while also supporting overall production goals.
Let's understand the foundations of why a food safety and quality management system is so critical, and how to bring the best of both worlds together.
What is the purpose of a food safety management system?
It is often said that we can't understand where we going if we don't understand where we're coming from. To that end, an understanding of the motivations behind the evolution of food safety and quality management systems is a necessary starting point.
QMS (ISO 9001)
Both QMS and FSMS serve to streamline management processes, ensure resources are utilized efficiently, enhance risk identification and mitigation, and reduce duplication of efforts. Where they differ is in how they meet these goals.
QMS, outlined by ISO 9001, is a set of coordinated activities to direct and control an organization in terms of quality. Its key principles include customer focus, leadership, involvement of people, process approach, continuous improvement, evidence-based decision-making abilities, and relationship management. In other words, the focus of QMS is on optimizing internal and external communications to ensure quality standards are met.
The origin of QMS stems from ISO 9000, which was first published in 1987. There have been many updates since its inception. The most recent ISO revision of 2015 (ISO 9001:2015) introduced the concept of risk-based thinking within the context of the organization and a focus on leadership and integration with other management systems.
FSMS (ISO 22000)
FSMS, described by ISO 22000, was later introduced to specifically focus on the food industry to protect public health. A thorough food safety plan with FSMS should cover six critical pillars: hazard analysis, preventative controls, monitoring, corrective actions, verification, and reanalysis.
Among these, sufficient monitoring serves to be particularly difficult for manufacturing companies to optimize. Many organizations, particularly in the food manufacturing industry, struggle with maintaining visibility across their dynamic, often siloed, multi-layered organizations. Effective monitoring requires easily accessible documentation and SOPs with step-by-step lists of instructions for employees to follow to adequately monitor food products and ingredients.
Digital dashboards and other visual aids can be critical in helping keep information at the forefront of employees' minds, as well as providing historical information so that trends can be identified and tracked.
Furthermore, a byproduct of a strong FSMS is a strong food safety culture. This encompasses the following:
A commitment of leadership and senior management to their employees and customers.
Adopted food safety policies, practices, and standards.
Open and clear communication (including documentation) across organizational levels and departments.
Resource management in terms of both human resources and other resources.
Effective education, training, and awareness of food safety policies and procedures throughout the organization.
Visible management, support, and commitment of all personnel to boost engagement and retain valuable employees with a solid grasp of food safety Culture and company policies.
Monitoring and feedback systems to continuously monitor and improve your food safety culture.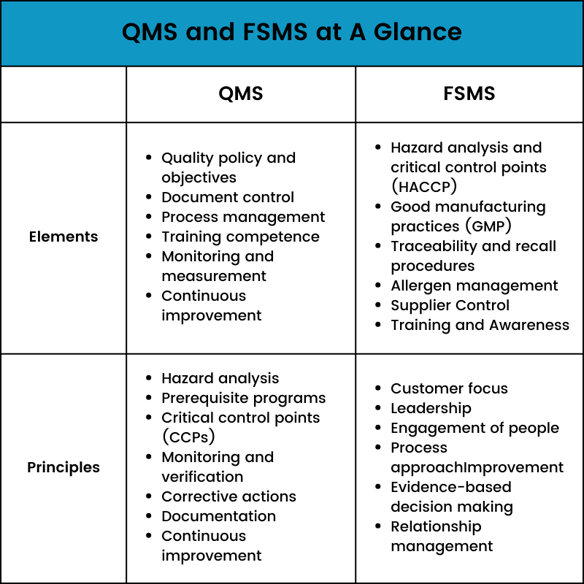 FSSC 2200
Sector-specific prerequisite programs (PRPs) were incrementally added to ISO 22000 to address specific manufacturing sectors, which brought about the Foundation for Food Safety Systems Certification's (FSSC) FSSC 22000 certification. Specifically, FSSC 22000 aims to certify the food safety systems of companies that process or manufacture perishable products of plant or animal origin, products with a long-shelf life exposed to room temperature (for example, pasta, cookies, oil, or canned foods), and biochemical products involved in food production (such as additives, vitamins, etc.)
The most recent version of the FSSC 22000, Version 6, was released on March 31, 2023 to integrate the requirements of ISO 22003-1:2022 and incorporate feedback from 2,000 responses to the Version 6 development survey. There will be a 12-month transition window for organizations to prepare, with Version 6 audits beginning August 1, 2024 and completion of the audit is expected before March 31, 2025.
---
About the author: SafetyChain is a digital plant management platform for manufacturers trusted by more than 2,000 facilities to improve plant-wide performance. It unifies production and quality teams with data and insights, tools, and delivers real-time operational visibility and control by eliminating paper and point solutions.