#3 in a series of posts about leveraging technology innovations to manage robust GFSI programs – and being audit-ready on demand. In this post, we explore how a comprehensive technology system can automate GFSI programs.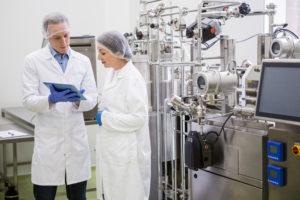 A comprehensive technology solution for food safety and quality management will help enforce and document Food Safety & Quality Assurance at all points along a company's value or supply chain—for what comes in, what you do with it, and where it goes next. With real-time data collection and analysis to specifications (including GFSI code stored in the system)—along with automatic alerts when deviations are detected—an comprehensive solution helps prevent non-compliant ingredients and raw materials from coming in, and non-conforming finished products from going out. Additionally, it helps ensure FSQA workflow, processes, and documentation while also creating a central repository of FSQA data for trending, reporting, continuous improvement, and of course, audit readiness.
We've often heard, when discussing overall FSQA programs including GFSI standards, that food safety and quality assurance is all about: "Saying what you do, doing what you say, making sure it works and making sure it's all documented." And that's what a comprehensive food safety and quality management system does.
1. Say What You Do
All regulatory, 3rd party, customer and internal FSQA requirements, plans and programs are set up and defined in the system. Some of these may be pre-defined—with SafetyChain, for example, GFSI codes are pre-defined in the system. For other programs, such as customer compliance requirements, the software vendor helps to set those up.
All of the components of the food safety plans – and the programs and data sources that are necessary to support plans, as well as GFSI schemes—are also defined and then set up in the system and associated with the plans and GFSI standards. This includes requirements for HACCP/HARPC plans and all associated SOPs, PRPs, etc., along with when they need to be reviewed/revised (for example, sanitation schedules and pest control programs). Also included are approved vendor program requirements, forms, data from labs and equipment, and documentation requirements.
2. Do What You Say
A workflow engine ensures all tasks associated with requirements/programs (defined in #1)—including food safety monitoring activities—are completed according to documented schedules. All tasks are associated with their current forms, for example, those for internal direct observation inspections, quality attributes, internal/external lab data collection, and vendors.
All tasks are scheduled via an electronic task scheduler with auto-notifications when tasks are due (for example, a notification to a supplier when a GFSI audit certificate is due or to a line supervisor to alert that the metal detectors must be calibrated). Incomplete or omitted tasks generate escalated alerts.
3. Ensure it Works
A comprehensive system has a verification engine that analyzes all data—such as safety assessments from mobile forms or test results from a lab—in real time to the requirements and specifications defined in the system.
If results are out of spec, a non-compliance alert is issued. The system can then automatically generate a timely CAPA and track it to completion.
4. Make Sure it's Documented
In a comprehensive system, every component indicated in #1-3 receives an unalterable time and date stamp and is accessible from the system's central repository of data as part of a permanent FSQA record. Every document, test result, CAPA, from every location, all accessible with a security login from any device. Anywhere. Anytime.
Key Benefits Companies Realize When They Automate
Food companies can realize three key benefits when they automate as described above:
All FSQA data is now actionable for trending, performance benchmarking, continuous improvement, and
vendor approval programs.
They have powerful tool to promote regulatory, GFSI, customer, supplier, and internal compliance—with all audit records accessed on demand.
They gain peace of mind in knowing that programs are being carried out properly, and that FSQA information is provided in the timeliest manner possible for CAPAs. Peace of mind in knowing they are delivering the safest, highest quality products to their customers.
In our next post, we'll dig in to explore more about how an comprehensive food safety and quality management system supports GFSI compliance and audit readiness. We'll do this by revisiting the five key challenges to managing a GFSI program and outlining how to leverage the system to overcome these challenges.
Want to learn more about how SafetyChain can help your company more effectively manage GFSI compliance and achieve audit readiness? Download our datasheet on the 4 key ways food safety and quality automation helps!