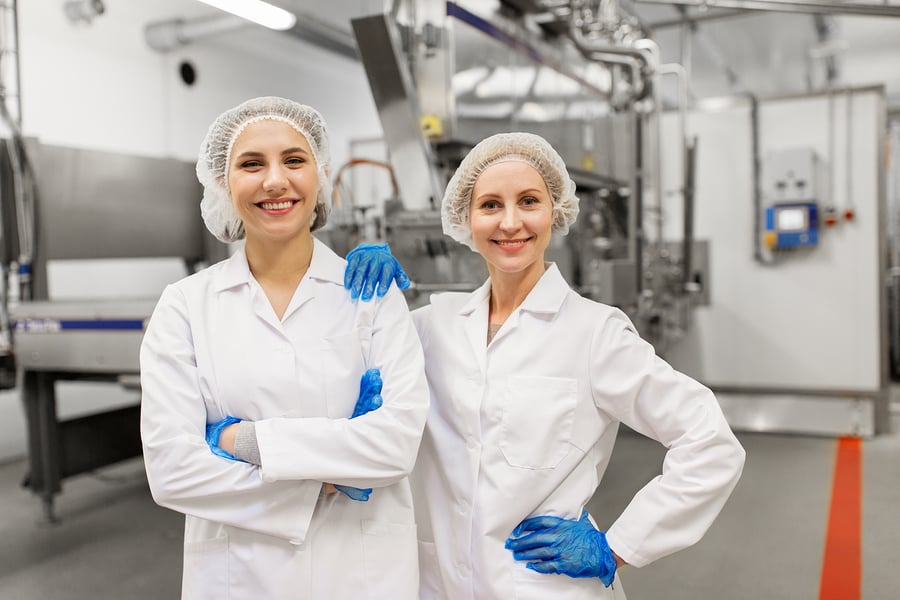 According to data from Deloitte, the U.S. manufacturing industry is facing a labor shortage, which is projected to extend into the next decade. More than two million jobs are likely to go unfilled, which is largely due to a skills gap. Being that women hold less than 30% of manufacturing jobs and less than 5% of CEO roles in the industry, there's a huge area of opportunity for women in this realm.
Indeed, statistics point to incredible prospects for women in manufacturing, especially in food and beverage. Of all the subsectors, F&B has seen the strongest growth in recent years. Here, we've gathered insights from some dynamic women who are making an impact in food manufacturing. Find out how Tracy Ouellet, consultant in the agri-food industry, Iris Eshoo, VP of FSQA for See's Candies, and Geri Kelley, Director of IT Applications for Tyson, established their place in manufacturing, and what advice they have to give other women who hope to do the same.
Becoming a Leader in the Industry: Mentorship & More
Entering into any male-driven field has its challenges, but taking a strategic approach to career-building can help women excel. The ability to work with other leaders early in your career can present opportunities to learn and grow, according to Iris. Seeking out mentorship opportunities—whether it's to formally shadow someone in an upper-level role or simply soak up their knowledge and experience—can also be beneficial.

Both Iris and Geri agree that maintaining a natural curiosity is also pivotal to career success. According to Geri, the mindset that you can learn from anyone, even in cross-functional roles, provides the opportunity to see how everything in a plant fits together and may even open new doors. She also notes that sponsorship is important, and that career advancement is often about showing others what you're capable of, and not necessarily what you've actually done.

Overcoming Career Challenges
Everyone faces career challenges, but being among the minority in manufacturing certainly sets women up for some unique obstacles. Tracy notes that when she started as a manager of a boiler breeder operation early in her career, she'd often be the only woman—and the only person under 40—at seminars and corporate meetings. There is often an unconscious bias towards women in these roles: sometimes, it seems as if they're tolerated but not necessarily valued. Moreover, performance reviews, an important talent management tool in manufacturing, can be riddled with criticisms focused on personality instead of performance.
Tracy overcame these challenges by focusing on building confidence in her own skills. She also recognized her weaknesses and worked to strengthen them, and would aim to build a team that balanced out her strengths. She recommends leading by example, gaining allies for support, and being confident in the value you bring to the workforce.
Geri, too, overcame challenges earlier in her career. She recalls one manager whose leadership style was at odds with her own. Men and women do, indeed tend to have different leadership styles, and people respond to these styles differently. Although she notes that it's easy to become discouraged by flawed leadership (even when you have a passion for what you're doing), she also explains that every hardship has a lesson. In this particular situation, she learned what not to do after seeing how poor leadership impacted teams and outcomes. She then took these learnings to become more effective in her own leadership positions.
Gender Differences: Navigating Unintended Biases & Negotiating for Success
Gender bias still exists in some organizations—likely because it's so deeply rooted in societal beliefs about men, women, and leadership roles. Men are perceived as being strong, assertive, and decisive. Of course, these are the qualities that come to mind when we think of leaders, but women are often regarded as warm and sympathetic.
Now, however, as Iris notes, the world is evolving, and so are organizations. She explains that while she's been fortunate to work in progressive organizations where gender biases haven't been present, old-school management may exist in some places. In any environment, however, women can maintain a distinct advantage: being empathetic often leads to better personal relationships, communication, and collaboration. Companies that strike a healthy balance between men and women are better able to drive results. Moreover, women account for 85% of consumer purchases, so they're well-positioned to provide insights into the general population's purchase drivers.
Tracy, too, notes that women typically have a unique set of soft skills. They tend to be highly adaptive, detail-oriented, and bring a different perspective from men's, so leveraging these unique qualities can help them excel in the workplace.
Evolving Roles & Opportunities for Women in Manufacturing
Many manufacturing companies are on the cusp of a technological transformation. Trends in robotics and automation have increased in recent years, creating a rapidly developing opportunity for new, skilled workers. Manufacturing employers are leveraging machine learning, AI, drones, and other modern tools, and are therefore seeking out candidates who have an interest in or aptitude for technology. SafetyChain, for instance, automates data collection and allows workers to enter into more value-added roles. With the increasing visibility of manufacturing data, individuals who can use reports and insights to make strategic decisions will become invaluable across facilities. Pursuing STEM-related education is an excellent way for women to develop skills in disciplines that have been historically geared towards men.
Tracy expands on this idea, noting that since we now have the ability to collect data electronically, the manufacturing industry may need less manual labor. Yet, process automation, IoT, and the implementation of new software introduces the need for analysts and data miners, who can figure out how to take insights and use them for food safety and quality improvements.
She also explains that there's an increasing demand for traceability: shoppers in grocery stores now want to know which farms their meat and eggs came from. There are plenty of opportunities for women to provide value amid this evolving, consumer-driven aspect of manufacturing.
Tactics for Attracting & Retaining Women Workers
Companies that make the conscious choice to value diversity are likely to be more attractive to employers. Tyson, for instance, partners with high schoolers in STEM programs and has programs specifically to empower women in the workforce and encourage the pursuit of leadership roles. Iris also notes that See's provides opportunities for outside training and development, which can help to ensure women have the option to participate in activities that will propel their careers.

Advice for Women Starting Out or Advancing Their Careers
All three of our contributors shared some valuable final thoughts for women who are just starting out in the manufacturing sector. Tracy, for one, encourages being humble but also being your own advocate. She advises women to take credit for their accomplishments—while it's sometimes easy to fall into the habit of working in the background without taking credit, women should be confident and know their value. "Love what you do and do it well every minute of every day," she says.
Iris agrees that whatever role women choose to take on in manufacturing, it should be something they love. Being successful means working hard, but if you love what you do, the day goes by quickly. She recommends staying focused, being persistent, and using minor setbacks as ways to propel yourself forward. Additionally, she notes the importance of learning your business, understanding how it operates, listening, being curious, and asking a lot of questions. Making connections and working with leaders can also be valuable for building a successful career. She also encourages women who have interests in moving up to make those desires well-known.
To echo what the other contributors said, Geri notes that it's important to find something that interests you and aligns with your passions, so you're not just going to work. Identifying your strengths can also allow you to differentiate yourself as a leader. Moreover, women can take ownership of their own careers by reading articles and learning about trends, which will also allow them to be better able to provide strategic, innovative solutions.
About the Contributors
Tracy Ouellet is a former applications manager of HyLife, Canada's leading pork producer and global exporter of high-quality pork products. She grew up on a dairy farm and began her career managing a broiler breeder. Tracy is an expert in root cause determination and is currently pursuing a consulting role in the agri-food industry.
Iris Eshoo is the VP of FSQA for See's Candies. After graduating with her bachelor's degree in biochemistry, she pursued a master's degree in food science to marry her passion for food and love for science. She started in a small company where she wore many hats, taking on roles in regulatory, training, and development programs. She's been with See's Candies for the last seven years in a food safety role, supporting shops and manufacturing plants.
Geri Kelley is the Director of IT Applications for FSQA at Tyson. She leads a team of IS professionals on software implementation projects and provides application support. Geri began her professional career at Tyson doing internal audits at manufacturing facilities, which gave her a first-hand look into how plants operate, then later moved into a role in IT.